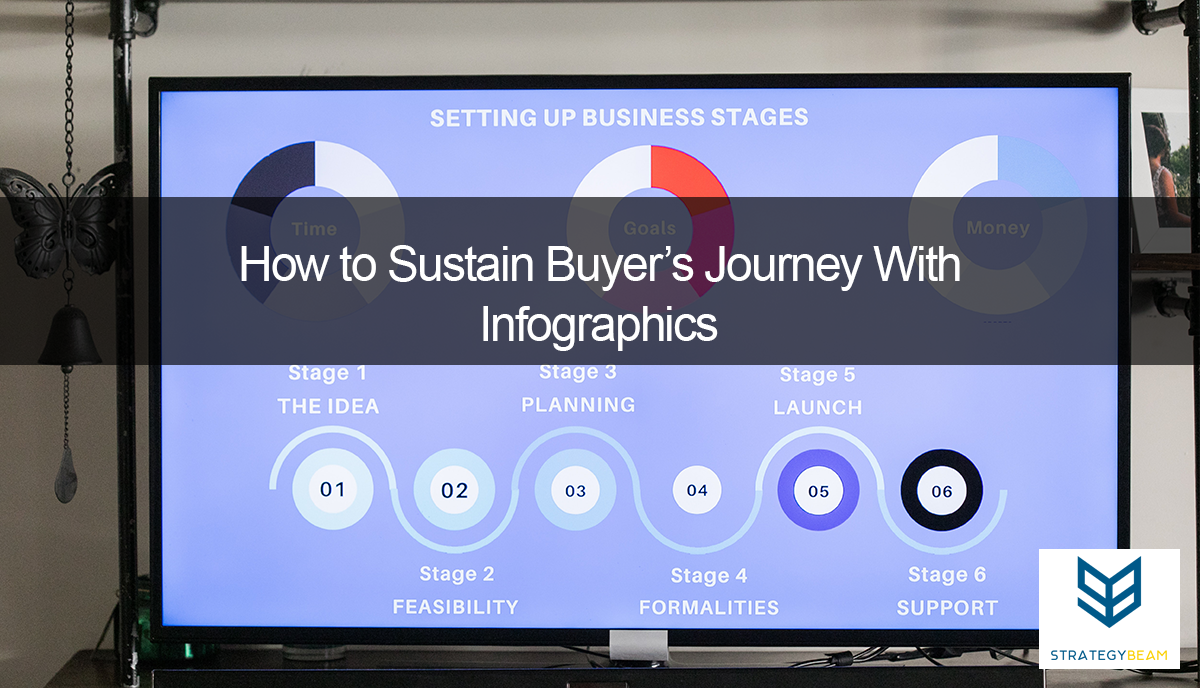 You own some business that aims to help people solve some issues. The product or service your business offers is useful and you are sure that it deserves great recognition.
However, all your tries to push it online are counterproductive. There are no results in sales. It seems like you don't move ahead. A business of your dream doesn't show any progress. Instead, you witness only regress.
How to solve this problem?
To force your business to work, you must build a sales funnel. The funnel that would reorganize your business.
In this guide, you will find out how to build a creative sales funnel that would sustain the buyer's journey with infographics specifically.
Let's start.
What Is a Sales Funnel?
Before you start building your sales funnel, you must understand what it is. A sales funnel is a system that helps you attract your potential leads and convert them into your customers.
The funnel consists of four main stages – awareness, interest, consideration, and conversion. And this four-stage process has a "funnel" shape because your potential customers "drop out" at each stage.
For example, you own an eCommerce website that sells karate belts.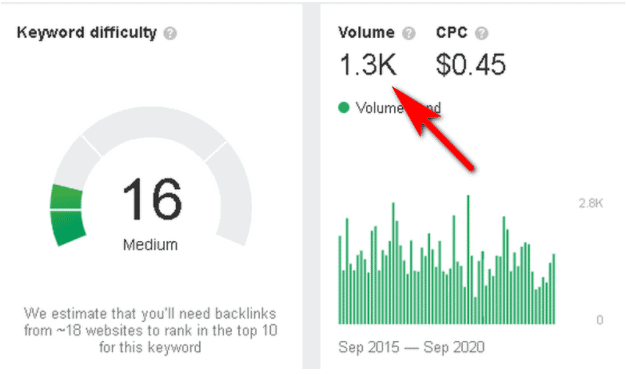 As you can see, 1.3K people search for karate belts to buy per month. Let's say you rank for this keyword. Google shows your online shop at the top of the SERP. It means 1000 people click through to your website. They notice that you offer a 25% discount if people subscribe to your newsletter.
700 people subscribed to your newsletter. A part of these people is interested to use your discount coupon (400). But only 100 decided to buy the belts.
Therefore, you can observe a sales funnel that embraces all the stages involved. The awareness stage is larger than the final conversion stage. And there are dropouts that happen at each stage: 1000 –> 700 –> 400 –> 100.
It might sound simple. Don't delude yourself by thinking so. The process of creating a sales funnel is comprehensive. Hence, if you don't understand the concept of the funnel, you won't be able to build it.
Now, let's review each stage of the funnel and how you can apply infographics accordingly.
1. Awareness Stage
A buyer's journey starts with the first stage of the sales funnel called "awareness." This is the very stage when people hear about your product or service. It can happen in different ways.
They read a product review on some third-party website
They stumbled upon a piece of content that covers the problem your target audience has
They happened to listen to some podcast where your brand has been mentioned
They watched some video on YouTube that describes your service
They found you via Facebook ad
They found you on Google organically
Etc.
To sum up, your target audience knows that your brand exists. Unfortunately, there is almost no chance that these people will become your customers right off the bat.
Fortunately, these people know that your service can help them to solve their problems. Your job is to let more people know how your brand can help them directly. Therefore, you will have to raise an issue and persuade your target audience that it is critically important. Afterwards, connect the issue with your brand and explain how your service can help them in this case.
How to do this?
Start with building your presence across main channels on the Internet. Let's review them:
Rank For Valuable Keywords In Google
Google is the first place where people go to find answers to the questions they have. And they will look for the solution to the problem they have for sure.
Consequently, you must be shown up on Google for a hundred percent.
How to make it happen?
Start with keyword research. You must identify what search queries your target audience uses. There are lots of SEO tools you can utilize for this process. One of them is Keywords Explorer from Ahrefs.
For instance, you offer a service that helps people to create beautiful visual content. This particular service is related to content design. Content design involves different aspects like presentations, infographics, charts, graphs, printables, etc.
Your purpose is to reach out to as many people as you can. For this, you should create content that would cover broad topics.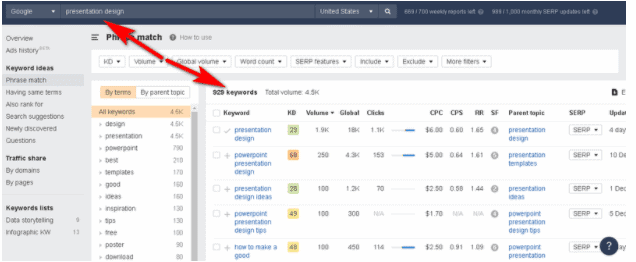 The topic "presentation design" suggests over 900 keyword ideas that you can use for your content strategy and overall SEO purposes.
Plus, you can adjust whatever topic you want to the infographic. Just like this product design process.
Create YouTube Videos To Build A Brand & Education
It is a well-known fact that YouTube is the second largest search engine after Google. As you already guessed, you should present your business there as well.
You should start by exploring what your target audience is looking for on YouTube. What video content people are willing to watch. You can conduct keyword research or review what video content your competitors publish on their channels.
Here at Visme we host our YouTube channel and release new video materials a few times per month.

This video on creating stunning content with animated illustrations got 54K views for the three weeks.
Obviously, YouTube is a must channel for customer acquisition.
Engage With Online Communities
Google and YouTube are great sources for building brand awareness. But what if your target audience wants to discuss some questions with real people?
Online communities enter the game.
Such communities as Reddit, Quora gather people with the same issues. Hence, you can suggest your service as a solution.
What's more important, you can post infographics that would illustrate the facts per certain topic in question.
Beforehand publishing your infographics you should read the rules of the community. And don't forget to add value with your answers to the questions people raise.
Once people notice your brand via these channels, they down the funnel to the next stage – interest.
2. Interest
Interest is the second stage of the sales funnel. At this stage, your target audience already knows about your service. Your potential customers want to explore more information about the brand and service you offer.
It happens by digging deeper into your content by focusing on some specific topics. For example, your potential customers instead of searching "how to redesign a website", start looking for something more specific, like "website redesign cost".
Other than that, your target audience would be interested in exploring influencers and experts within the niche to follow. It is a good sign for you. Because you can become the expert they are willing to listen to.
To sum up, at this stage, you have two main priorities – rank for specific queries and become an influencer. And here how you can do this.
Rank Keywords Based On Your Business Goals
Your business has a direct connection with the problem your customers have. However, this problem can be less defined.
Let's say, your target audience includes various business owners who want to attract their customers by creating useful information related to their business. They know that this information can be presented in the form of a post. But they are sure that nobody wants to read posts without visual elements involved.
They face the problem that could be described in one question "how to create visually appealing content?"
One way is to hire a graphic designer who would handle this. The other – find the answer to the question on Google. Here is where you enter the game.
You suggest a solution by providing a service that helps to create beautiful content. You state that your potential customers would have an opportunity to create appealing content by mixing it with infographics, images, graphs, etc.
And when your potential leads enter this stage, they begin exploring such queries like "how to make an infographic", "how to create animated graphics", and lots of other niche-related inquiries.
All these queries are the terms with high business potential for you. And you know that they reflect the problems of your target audience, which your service can solve.
As you already guessed, your task is to rank for these terms. Therefore, you must raise the problems your leads have and show them how your service can help.
The best part of this task is that you can use different examples of infographics that would reflect the problem you're solving. For instance, your potential customers are curious about how to create infographic layouts. You can explain how to do this in your piece of content where you provide infographic examples related to whatever topic you want.
Keep in mind that people tend to sign up for your product only if they know how to use it. Hence, teach them.
Become An Expert In Your Niche
If the representatives of your target audience enjoy reading your content – it doesn't mean they will convert into customers. Maybe they didn't understand how to use your service properly. Or they still have some doubts regarding your service effectiveness.
It doesn't mean what is the reason for this. Your job to persuade people to follow you at this stage. It is an integral part of the entire lead nurturing process, which aims to develop relationships with potential customers during every stage of the sales funnel.
You might wonder what channels could be used for engaging with people.
It depends on the business niche you're revolving. Nevertheless, practice shows that you must be present across main social channels like Twitter, Facebook, and LinkedIn. Sometimes it would make sense to be actively present on Instagram or Snapchat for your business.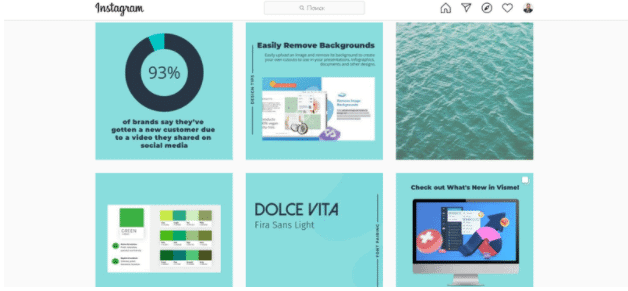 Here at Visme, we use all possible channels that allow us to educate our target audience to use our service. It is an opportunity to sign up for our newsletter. Subscribe to our YouTube channel. Follow us on Twitter.
All these channels help us be closer to our target audience, educate people, and move them down the funnel until they get converted into paid customers.
You should do the same at this stage. You must show your high standard of professionalism and your ability to solve the audience's problems.
Don't forget to use call-to-actions that would push people to subscribe to your newsletter, follow you, and sign up.
3. Consideration Stage
At this stage, your target audience knows that they have the problem and your service can help solve it. But still, it doesn't mean that they will choose you.
It is the stage when potential customers prefer to review alternatives. Hence, the only task here for you is to convince people that they should choose your service.
How to do this?
There are two wonderful ways to do this. Let's review them one-by-one.
Show The Value You Offer Customers
Unfortunately, your competitors provide the same solution on the market. Hence, it is going to be hard to explain why your brand is the best choice.
Nevertheless, you must find an argument that would persuade people that your service is an exception.
For example, Visme differs from other companies on the market thanks to these core features:
Slides library with 900+ layouts
16+ animated charts and graphs
Build custom infographics from pre-made content blocks
Insert video and third-party content
Plus, we produce educational content that teaches our target audience to use Visme toolset at full.
On top of that, our users write guides that cover how to use Visme for the business.
A word of mouth is the best channel for letting other people know about your service. It pushes your brand without using additional resources like advertising.
Focus On Search Qualifiers To Dominate SERPs
When you're looking for some service or product on Google, you use such modified keywords as "best", "top", "vs", etc. The same happens to your potential customers. They explore something like "best smartphone 2020" and review the recommendations.
How can you use it for your benefit?
You can optimize your content for these specific keywords. Afterwards, you can create an infographic that would compare your service with the competitors.
4. Conversion
Finally, the conclusive part of the sales funnel. Where your primal goal is to give a final nudge to your potential customers.
What does it mean?
It means you should offer something unique and valuable to your customers. If your target leads understand the importance of using your service, they won't convert anyway.
To incline your potential customers to purchase the product, you must offer attractive discounts, additional perks, or even free tools.
At Visme, there is no necessity to pay for using our service. Anyone can create an individual basic account with no credit card information required. However, in case of need, our users can upgrade their accounts and get access to premium features. Plus, if our users want to choose an annual plan, they can save 40%.
You can come up with your own ideas that would help you lean people toward becoming your customers. Like:
Impress with the discounts (but don't overuse this strategy)
Offer trials and demos for your service (product demo videos work perfectly)
More of "Black Friday" days
Encourage to invite new clients (for a certain gift in return)
And using infographics at this stage is to the point. Let's take for example a "Black Friday" opportunity that can help you force the leads to convert into the customers. You can create the infographic with the help of different content design tools. One of these tools is Visme.
What is the process of creating the infographic?
If you don't want to spend your time mastering infographic by yourself, you can use the templates suggested in the library. Use the search bar and pick up the topic for your infographic.
Choose the template you liked and move to the process of editing.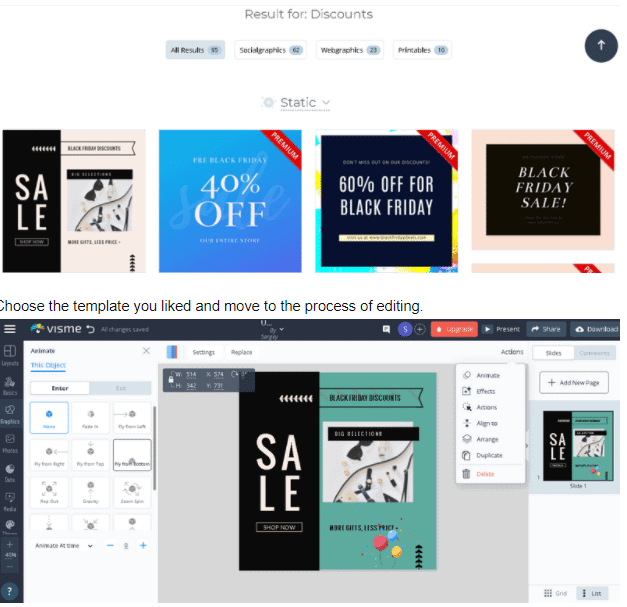 Here you can add and change whatever you want. It depends on your imagination. Just make sure your infographic will look appealing.
By applying the mentioned above strategies you will have this final nudge actionable. And you won't have to wait too long till your potential leads get converted into your customers.
Conclusion
Any business needs a sales funnel. It won't be possible to succeed and compete in the market without a well-crafted funnel. And you as a business owner must understand this concept.
Visuals are important additional elements that help make the process of moving down the funnel more smooth and appealing. Infographics are just a part of the game but they can play a final chord in decision-making by the leads.
You have read a guide that aims to help you with creating a sales funnel and attract your target audience using infographics.
Follow the tips and be ahead of your competitors.
Author's bio: Sergey Aliokhin is a Community Outreach Manager at Visme. When he is out of work, he likes to spend his time with family, read books on science-fiction, practice playing the bass, and visit the gym.