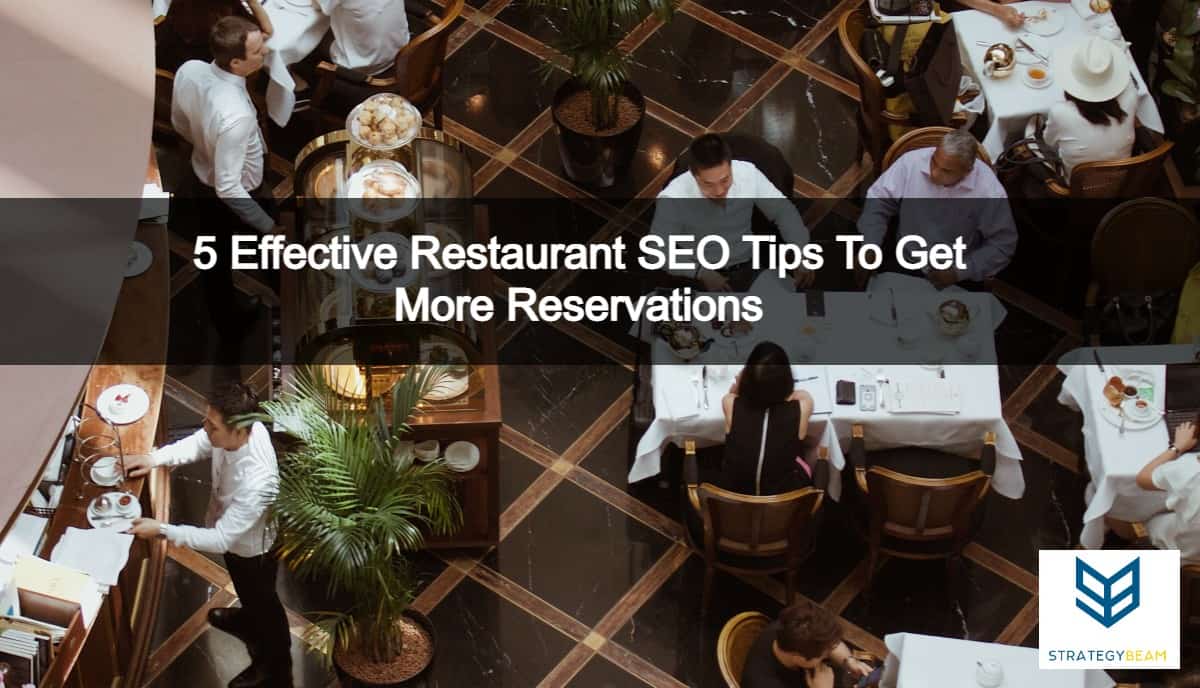 Use These SEO Secrets To Rank Higher And Drive In More Business To Your Restaurant
It's no secret that a robust online presence is a requirement in the restaurant business. As restaurant owners look for new and innovative ways to capture more online presence, owners can't overlook the basics of a good restaurant website and robust restaurant SEO as the foundation for strong online visibility. Restaurant SEO is more than keywords and pictures, because a strong SEO presence will help your entire business get found and attract your ideal customers throughout the year.
You can use restaurant SEO best-practices to improve the user experience on your site and help you outrank your competition so you can drive more foot traffic to your location.
As a restaurant owner, you are probably aware of several options for increasing traffic: ads. But shooting to the top of organic search results on Google is an effective, cost-effective way to get the most relevant traffic that will ultimately convert into customers.
Let's take a look at eight ways you can use SEO marketing to improve your restaurant marketing strategy and pack your tables with eager customers.
5 Restaurant SEO Tips You Can Use Today
Even though SEO is an integral part of your content strategy, SEO offers so much more than just enhanced content.
Restaurant SEO optimizes your restaurant's website, social media pages, and general digital presence by using strategic keywords to help build trust and a strong online presence. Your rest
When done correctly, search engine optimization increases the chances of potential customers discovering your local restaurant as they look for a new, well-reviewed eatery to visit. It also allows you to prompt your business to local clients.
Here are five SEO tips you can use to improve your restaurant's ranking on Google or Bing's search results page.
1. Use Local SEO Strategy To Improve Local Search Ranking
Any business with a physical location can benefit from local SEO, meaning it's the perfect strategy for your restaurant marketing plan.
To increase your ranking in local restaurant search, start by claiming and optimizing listings across all significant search properties for your restaurant. This includes the Google My Business listing.
Confirm that the NAP (name, address, phone number) data, or contact information, is accurate and consistent across all data sources.
After you've done that, you can start optimizing information fields, like the restaurant description, business profile, and business categories, to keep your listing in line with any focus terms you've identified in your keyword research.
Focus on directories like Google My Business, Yelp, TripAdvisor, Foursquare, and CitySearch to ensure your restaurant is showing up in local searches.
2. Use Keyword Research To Define Your Content Strategy
Before you can optimize your website and existing content, you'll need to define your content strategy.  This narrows your competition and gives you a direct pathway to increased, high-quality website traffic.
To do this, you will need to do some research to identify specific keywords that users are putting into their search engine when looking for a restaurant.
To begin, define the geographic location you want to dominate. It will be the area around your restaurant where people live, work, or visit frequently.
Research what keyword phrases and terms users enter using a trusted keyword research tool, like Moz Pro. Here are some distinct term groupings you will want to classify to ensure you cover different levels of competition.
Niche-Specific Search Terms: These terms connect to the specific categories your restaurant fits into. For example, "pizza," "trendy brunch restaurant," and "Japanese restaurants" would represent types of cuisine, as well as any unique features.
Branding Search Terms: Brand terms let you know how many people search for your local restaurant by name. This is excellent data to compare with the other two categories.
High-Level Restaurant Search Terms: These keywords cover generic variations a user may utilize, like "restaurants" or "Orlando restaurants."
By researching these keyword term categories, you'll identify what you need to focus on as you define your content and measure its success in local rankings.
3. Drum Up Testimonials And Online Reviews For Your Local Restaurant
When searchers review search engine results as they try to locate a restaurant, they look for reviews and rating scores. They will inevitably click on the restaurants with the highest star ratings first.
While reviews are typically considered part of your social media strategy, they have a much broader impact on your restaurant's website on the search results pages. A high star rating leads to a higher click0through rate, more foot traffic, and new customers.
If your online ratings don't reflect the quality of your restaurant or your business is new, develop a strategy to get, as many reviews as possible to improve your score before adding the HTML code that will include your reviews in the SERPs.
4. Make Your Webpage Mobile-Friendly
Your website must have a positive user experience for customers on mobile devices. Mobil makes up a high percentage of restaurant website visits.
Ever since the algorithm change in 2015, Google ranks mobile-friendly websites higher than those that aren't.  Google also no focuses on the mobile version of a website when trying to understand its content. If your website isn't responsive or doesn't pass the necessary mobile-friendly tests, your SEO ranking will take a hit.
It's essential to consider your restaurant website's rendering and load speed when curating an excellent mobile user experience. Make changes to the site's HTML and add an online ordering feature to make placing a pick-up order a seamless experience.
5. Be Innovative With Your Content Creation
If you have a single restaurant location, you will have an easier time with SEO than multi-location local restaurants or national chains.
On the other hand, you have to ensure that you stand out from the competition by making sure you have a sufficient amount of unique and localized types of content on your restaurant's homepage.
Content isn't all written copy. You can use images of your best-selling menu items, in-house promotional fliers, and short-form videos about your staff and establishment.
Search engines focus on more than just the keywords on your site. They also consider the context. This means that if you are regularly generating new content, you can keep the pipeline filled with engaging material that will set you apart from your competition.
You can also post this content across social media platforms to capture new customers through those searches as well.
Use Restaurant SEO Tactics To Drive Traffic To Your Website And Eatery
Your local business is an important part of the community. When people can find you online, you need to ensure you win them over quickly with a great website user experience and entice them to take action.
By incorporating SEO best practices into your digital marketing strategy, you will increase your restaurant's visibility and inspire new customers to try your delicious cuisine.
Use high-quality SEO services to ensure your restaurant's website is user-friendly and your listing is at the top of your potential customer's search results page. Once you do that, you'll be enjoying rush after rush of hungry customers.
Restaurant SEO FAQs
Schema markup is data vocabulary that assists search engines in better understanding the information on your website and improves search engine results.