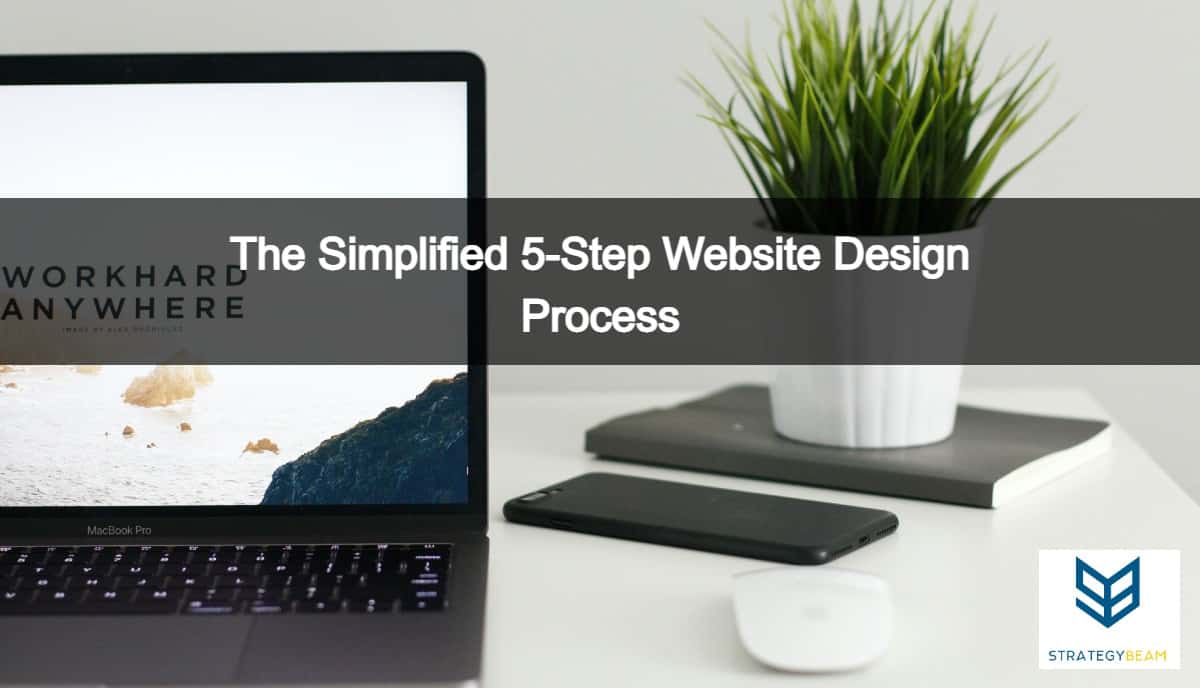 Your Step-By-Step Guide To Build A New Website
Are you looking to build a new website from scratch or updating an existing website?
Web design is a complex process that requires a lot of different skills. While most people only think of the visual side of website design, the web design process brings together a collection of skills and expertise because building a website is like building a home because you need different specialties to complete the project.
Who Is Involved In The Web Design Process?
| | | | |
| --- | --- | --- | --- |
| Who Is Involved | What They Do | When They Work | Estimated Cost |
| SEO Consultant | Build site architecture, organize content on the site, and research market/competition. | First, Second, and Fifth Stages | $225-300/hour |
| Designer | Create visual layouts and design before the site is developed. | Second, Third, Fourth, and Fifth Stages | $150/page template |
| Developer | Use development tools to build out a site from the visual designs. | Third and Fourth Stages | $100/hour |
| Copywriter | Create content for search engines & people that will fit the site layout and site architecture.  | Fifth Stage | $375/page  |
A quality website is an investment into the future of your business because a professional site can help your business generate more traffic, leads, and sales. If you are in a competitive niche or your market is saturated, then you will need a team of pros to build a site for you to ensure the overall success of your online marketing strategy.
When done correctly, the cost of a website will pay for itself, and you will only need to do minor updates every few years with ongoing maintenance. Here are a few professionals that an every web development project:
SEO Consultant: An SEO consultant plays a fundamental role in a website project because they use various tools and research methods to map user intent and keyword research to specific web pages on your site. The SEO expert is typically utilized at the beginning of a project and then brought back into the project near the end to ensure the Content Management System (CMS) is working as intended.
Designer: Website designers understand how colors, spacing, and content impact the user experience. Design teams implement frontend visual design mockups throughout a website project, from where images, videos, and text are placed, to details like typography based on a pre-approved style guide.
Developer: A development team knows how to build a website's backend to ensure the usability of various elements across the site. A web developer should know languages like PHP, HTML, CSS, and JavaScript to deliver a fantastic experience to your audience on desktop, tablets, and mobile devices.
Copywriter: Website copywriters are experts when it comes to building content that resonates with your audience. A copywriter needs to know how to write content found by search engines and engage with your human readers to drive conversions and engagement. A website copywriter should have a solid understanding of SEO, Conversion Rate Optimization (CRO) for the web.
Now that we covered who you will need throughout the web project, let's take a look at what deliverables should be included as the site is designed/developed.
What Are The Steps Of A Website Design Process?
As you can see, there are several aspects of web design that go beyond the visual layout of content and dives into how content is organized in your site's backend. The web development process is completed in several stages, and each stage is essential to the overall success of your website.
It's easy to get lost when thinking about what you need and who you need to hire to pull off the website design process. Some agencies will overcharge you for work that's not needed, and others will not have the staff or resources to deliver a great website which will leave you out in the cold.
While this is not a comprehensive list, the below steps will help you understand when you need different people and resources throughout the website design process to deliver an exceptional website for your business!
1. Determine The Goal Of Your Website
| | | |
| --- | --- | --- |
| Who You'll Work With | What To Expect | Estimated Cost |
| SEO Consultant | Map out information architecture, group content.  | $225/hour, ~4 hours for most sites |
Every business is unique, so every website is also unique. This means your site's informational architecture, visual elements, and functionality need to match your business model.
One of the first things you need to think about is why people visit your site and then break down user intent based on each web page. Is the aim of your site to inform, sell, or entertain your audience? The answer to this question will direct each step down the website development process.
The first step of the web design process is determining what you want to accomplish with the site. Here are some questions to consider as you work through the goal of your website:
Why Do People Visit Your Site?: Think about why someone visits your site so you can organize content and visual elements to meet their needs. For example, people visit Hulu and Netflix to consume visual content for long periods, but people visit Wikipedia to consume chunks of text-based content for quick educational sessions. These websites are designed and developed in different ways to reflect user intent, and your website should be designed similarly based on the needs of your audience.
How Will People Find Your Content?: Think about how people will find your content. If you rely heavily on organic search traffic, you should focus on thought leadership and blogging, but if you want to drive qualified leads through Paid Search, you should focus on dynamic landing pages to boost conversions.
What Are You Trying To Accomplish?: Different business models need to layout content differently to accomplish their goals. For example, an eCommerce website will organize content differently on the back end and visually display information differently from a consulting company.
Unlike in the past, a website is no longer just a digital brochure of a company. Your website is a dynamic, integrated part of your marketing strategy. When appropriately developed, each page on your site will rank for specific keywords and move prospective customers through the Customer Journey.
Your audience has more options than ever before when it comes to online content. This means that you must offer them an experience that's tailored to their individual needs. Your content must be planned, optimized, and published with a specific audience in mind if you want to outrank your competition and drive sales.
Content that is too general will miss the mark, and you will waste your money if you don't nail down the goal of your site based on your intended audience's needs.
Let's take a quick look at three of the most common goals of a website and how companies use these goals to guide the project's scope from the initial planning phase to the final publication of new content.
Thought Leadership
Companies that rely on content marketing to generate leads need to build online awareness of their business through thought leadership. Whether your business sells physical goods like an eCommerce store or selling knowledge like a consultant or trainer, your website needs to build awareness and trust with your target audience.
Thought leadership would rely heavily on blogging, video, and other information-based content that educates your audience. The goal of thought leadership is to prove your value to your customers before they buy from you.
A few things to keep in mind if the goal of your website is to provide thought leadership:
Keyword Architecture:
Topical Clusters:
Blogging Schedule:
Internal Linking & SEO:
Generate More Leads
All businesses need to keep a steady flow of leads coming into their sales team to ensure the future success of their business. Inbound leads can come from various sources like Paid Media, organic search traffic, or referrals.
The two main types of business models that require a website to generate leads include consultants and brick-and-mortar businesses. Consultants require leads because they don't sell a physical product like an eCommerce website, and brick-and-mortar businesses require leads because they serve a market based on their geographic location.
Here are a few things to keep in mind if the goal of your website is to generate leads:
Integrate Thought Leadership:
Add CTAs On All Pages:
Focus On White Papers & Downloads:
Generate More Sales
Most online sites will generate more sales, but this goal is crucial for eCommerce stores and SaaS websites. The business model of these types of sites is focused on selling goods to consumers, so they have to optimize their site to ensure qualified leads convert to paying customers.
Like lead increase goals, I recommend setting a percentage rate increase instead of an absolute sales amount. This will account for seasonal fluctuations in demand and allow more meaningful historical comparisons of success rates across periods.
Now that you have a basic understanding of your site's goal, you're ready to design the site's visual elements to meet the needs of your business. The goal of your business will guide the goal of your site, which will influence everything about the project, from information architecture, copywriting, and site functionality.
Let's take a look at the next step of a website design process by reviewing competitive research.
2. SEO & Informational Architecture
| | | |
| --- | --- | --- |
| Who You'll Work With | What To Expect | Estimated Cost |
| SEO Consultant | Conduct surveys, look at your business plan, conduct competitor research, assign keywords and content to specific pages. | $300/hour, ~6 hours for most sites |
| Website Designer | Work with SEO Consultant to ensure information architecture will fit with the style of content for your site. | $175/hour, ~2 hours |
Every page on your website has a specific job. Every aspect of your website needs to be designed and engineered around the needs of your customers. While wireframes guide the visual layout of content, the informational architecture of your site needs to be built around the needs of your audience.
Similar to how an engineer drafts a blueprint to lay out every aspect of a home before construction, the website design process requires a blueprint that outlines how pages will interact with each other.
It is essential to think about the overall flow of your website and how individual pages will link together. The content on a given page should be grouped into sections or categories easily navigable by users who may have interests in one topic over another.
Understand The Needs Of Your Audience
The first step to interconnecting all of your pages across your site is to think about the needs of your audience. Everything about your site needs to be designed around what your audience is looking for and how they will interact with your site.
You'll see a clear picture of what your users need, and you can make sure that the information architecture is tailored accordingly. An SEO consultant will typically pull Analytics from your current site (if you have one) and pull data from third-party programs to provide questions about a product, critical aspects of a service, and other information to help guide content creation.
Run A Competitor Analysis
At this stage, you should expect the SEO consultant to run a competitive analysis on your market to determine your competitors' strengths and weaknesses. This information will help you identify opportunities and help you allocate time and resources based on supply and demand in the marketplace.
Competitive analysis is the process of looking at what other companies are doing to see how you can improve your products or services.
Customer Reviews: Look at reviews and other forums like Reddit to get a clear understanding of what customers think of your competition.
Architecture Review: Comb through your competitors' websites to understand how they position themselves in the market. You can assume their site architecture and layout reflects their business priorities.
Content Review: Look through the competitor's content to identify categories and verticals that they dominate. What topics do they make great content for? Where are they weak, and is there an opportunity for you to strike?
Competitor Keyword Research: You can run your competitors through keyword tools like Moz and Ahrefs to understand what terms they rank for. This is a critical step in the web design process because you need to consider what your competitors rank for to find opportunities to claim more market share.
Building a site that performs requires you to understand your customers' needs and optimize your content to get found as potential customers search for products or services you offer. This means you have to gain insight into the market and the needs of your audience.
Keyword Research
Once you understand the needs of your audience and the layout of the competition, the next step of web design is to combine visual elements with the SEO factors we just completed above.
The first step is determining the types of relevant keywords for your business or website because they'll help determine where and how much traffic you get. Google has a handy tool just for this purpose – enter those words into the search bar. It will provide information on their popularity and suggestions for other related terms people might use when looking online.
The critical thing to remember here is that there may not be one perfect competitor out there! You need to look at each site individually and understand why they're succeeding with different tactics than yours if you can identify gaps in the market.
Determine The Type Of Keyword For Each Page
Keyword research is the process of finding and analyzing search terms that people enter into different websites to use this data for specific purposes. This includes but isn't limited to SEO or general marketing.
Keyword research can uncover queries targeted to get higher rankings on these searches through optimization methods like keyword stuffing. It also provides information about how popular each query was as well their difficulty ranking when compared against other keywords.
The SEO consultant will need to run several reports and build a presentation that maps out what keywords and entities will be housed on each page.
Map Keyword & User Intent To Each Page
Once you have a list of keywords and a general idea of what pages will be associated with them, it's time to map out keywords and user intent.
Keyword research is a vital part of building the architecture of your site. Once you have an outline of each type of page you need and the associated keyword, you should start building the informational architecture of your site.
Connecting these words with user intent can help maximize web traffic without relying heavily on SEO practices such as search engine optimization (SEO).
At this stage, you should have a solid understanding of what your competitors are doing in the market and how you can out-position them. It would help if you also had a spreadsheet with each page of your site and primary keywords, entities, user intent, and stage of the Customer Journey.
3. Build Visual Layout Of Your Website
| | | |
| --- | --- | --- |
| Who You'll Work With | What To Expect | Estimated Cost |
| Website Designer | Sketch out low-fidelity wireframes based on previous steps. Progress to high-fidelity mockups for your approval.  | $150/page template |
It may seem counterintuitive, but as you can see, the web design process is much more than the traditional visual layout of a website's design. You have to build a foundation from the needs of your audience, opportunities in the market, and keyword research before you can design wireframes or templates.
Once you understand your customers' needs and expectations, you should begin to build out visual elements on your site. This is where your wireframes come in.
A wireframe will help you put all of the pieces together and see how it looks for the first time instead of a design that doesn't work because some elements are missing or placed incorrectly.
You should expect your design team to take a systematic approach to web design, and they should offer a multi-step process through the design process to incrementally build out the site's visual design. This approach will help save you time and money and prevent unnecessary steps backward in the design process.
Design Initial Low-Fidelity Mockups (Wireframing)
A wireframe aims to bring abstract ideas together to form a loose outline of how various elements will sit on a page. This step is crucial because it helps all decision-makers agree on what's essential for the site based on the target audience and business goals.
It's also a great way to test our design ideas and think through the various elements or interactions needed.
Sketch out what each page should look like from an architectural perspective.
Make sure to include navigation menus, content panels, images, and other media.
Create wireframes for each page of your website, organizing content panels by purpose like 'news,' 'products,' and 'services.'
Wireframing can be done on paper by hand (yes, this does happen!), but there are plenty of digital tools available to create them much faster – one favorite amongst web designers is Axure which allows us to create interactive prototypes with just drag & drop functionality quickly.
You should expect to receive at least two revisions at this stage. You will work with the designer to get a general idea of how elements will look on the page before moving on to the mockup phase of the web design process.
Develop High-Fidelity Mockups
You've been designing wireframes that are functional but not realistic. Now it's time to build a prototype with all the bells and whistles so you can get honest feedback from your users before investing in anything more complicated than sketches on paper.
Your designer will work with the SEO consultant to ensure the UI and UX are in line with the SEO needs of the site. In general, high-fidelity mockups offer several benefits to the website design process like:
They allow you to share your prototypes on the web, and people can give feedback.
Different tools allow for placeholder images and text, so the mockups feel "real" to your test group.
Designers can add notes, dimensions, and comments with developers to hand off the mockups to be converted to HTML files.
Wireframes and low-fidelity mockups are great ways to iron out content positions, but those don't allow you to see how a working website will look. This is where high-fidelity mockups come in, and they are the final stage in prototyping before handing the project to a developer who will build the site.
4. Develop The Website From The Design
| | | |
| --- | --- | --- |
| Who You'll Work With | What To Expect | Estimated Cost |
| Website Developer | Take high-fidelity mockups and turn them into HTML, CSS, and PHP files as needed. Build the site on a test server for safety and troubleshooting. | $100/hour, ~12 hours/site. |
| Website Designer | Work with the developer to make sure all elements look exactly as approved by you.  | |
Now that you have approved the final high-fidelity mockups for the site design, it's now time to hand the project to a developer who will bring the vision to life. A developer will use the mockups provided by the designer to make page templates and layouts based on your approved specifications.
Your developer needs to have a solid understanding of HTML, CSS, JavaScript, and technical skills with web hosting and PHP. These skills are critical since the developer will make the website function as intended, which requires substantial backend work on staging sites and site migrations.
One of the most critical steps in developing your website is to have a development environment as close as possible to the designs your team made. This helps you avoid many problems that can arise from not having it be just like the real thing, especially when dealing with databases and Web servers.
The staging environment is like a sandbox that you can build your website in before it goes live. This sandbox environment is ideal for testing functionality, get final approvals for design and other factors.
Your developer will build the website in your staging environment, and once it is complete, you will have the ability to provide feedback and sign off on the final approval.
5. Write Content To Fit Website Layout
| | | |
| --- | --- | --- |
| Who You'll Work With | What To Expect | Estimated Cost |
| Copywriter | Write content based on the notes from SEO Consultant and design of the website layout.  | $375/page |
| SEO Consultant | Provide feedback and direction to copywriter based on the information technology and keyword research.  | Price included |
| Website Designer | Ensure all content fit in a visually appealing manner. | Price included |
The content you create for your site should not be a second thought. Search engine optimization is key to getting new visitors and staying relevant in the ever-changing digital world, but it shouldn't come at the expense of creativity or usability.
The copywriting phase of a web design process will typically begin right after the first wireframes are approved. At this stage of the project, your copywriter will be able to format content, layout headers, and position CTAs on the page with low-fidelity mockups, and a copywriter will provide several deliverables at this stage like:
At least two (2) revisions of each page content for you to review and approve.
Use SEO research and audience research to understand how to write for the target audience.
Position headlines inappropriate spots to help SEO efforts.
Craft compelling content with keywords based on layout format and user intent.
A website that lacks engaging content focused on the needs of your audience will miss the mark every time. This is why your copywriter will need to use research and findings from the SEO team in the first steps of the website design process to direct their content creation efforts.
Website copywriting is different from other forms of copywriting because you have to balance user intent, page format, and preferences of search engines to deliver content found by search engines and engaged by human customers.
SEO should be about creating valuable and authentic content but still provides what web crawlers need to rank a site. The focus needs to remain on the best user experience possible while also being mindful of SEO practices, so rankings don't suffer in quality or relevance because it's been too heavily focused on keywords.
Bring Your Website Design Process Together
Once you have the visual layout complete and approved content on each page, now it's time to test and publish!
I like to spin up a test server so clients can look over the site before I publish. Once everything is approved, you will need to move your information to the live server for public consumption!
While the above steps offer an overview of the website design and development process, your website is never really "finished." Once published, you will need to constantly publish different types of content and have regular maintenance on the site with ongoing SEO marketing.