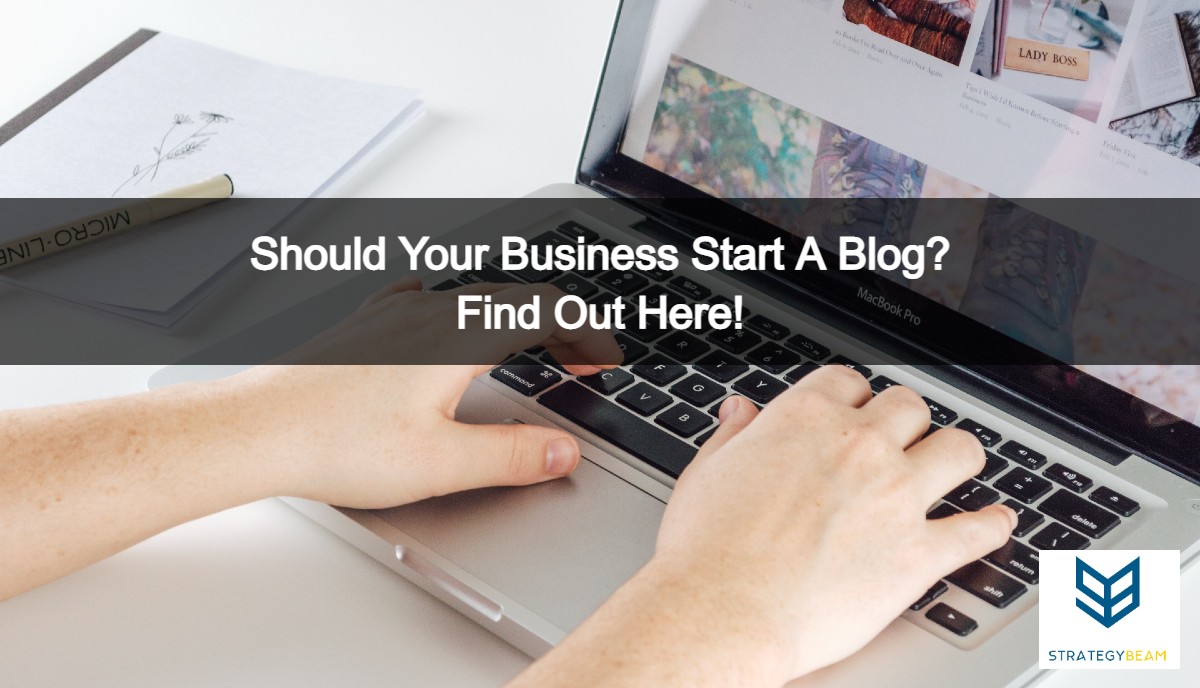 Grow Your Business With A Great Business Blog
If your company wants to reach a wider audience, build trust with potential customers, and drive more high-quality traffic to your site, then you need to start (and optimize) your business blog.
Your business needs to rank higher than your competitors in search engines if you want to make a connection with your target audience. This means that you need to focus on search engine optimization (SEO) with blog content that answers questions and entertains your readers.
Online competition is more intense than ever before as your competitors look to push you down in SEO rankings and drive traffic to their site. A business blog is a fundamental piece of your marketing strategy. Still, it can be challenging to write the content potential customers are looking for and tie the blog content back to your business objectives.
Since it can be challenging to write new content that encompasses keyword research and other marketing efforts to drive organic traffic, this is why we want to cover the benefits of blogging for business to show why you should start writing today.
Benefits Of Blogging For Business
The importance of blogging cannot be overstated. Without a blog, your business is at a severe disadvantage to other companies in the market, and you'll never reach those new customers with their marketing strategies that have been so successful for them.
Blogging is a long-term SEO strategy that you can use to rank above your competitors in search engines for specific terms that potential customers are searching for.
Let's take a look at five great ways a business blog can help your business today!
1. Attract Potential Customers
Any small business needs to attract new customers to keep its sales funnel full throughout the year. Excellent blog content will answer questions your customers ask online as they search for a new product or service.
Inbound marketing is a great marketing tactic because it positions your brand at the top of search engines as customers research throughout the Customer Journey.
An educational blog allows you to deliver high-quality information to customers to support your online marketing strategy. Here are a few industry-specific examples on how you can use a business blog to strengthen your digital marketing efforts right now:
A lawn care company could blog about common weeds in the area so homeowners can identify weeds in their lawn. This information can help potential customers understand the weeds in their lawn and how the lawn care company can improve their lawn with various lawn care solutions.
A clothing brand can blog about seasonal fashion trends and tie them back to the trends with new blog posts. This type of education blog content will educate, entertain, and drive more sales throughout the year.
A dog walker can write relevant content around dog health and tie it back to the different breeds of dogs they walk. This information will help dog owners understand the importance of exercise for their dog, and that will help drive more monthly work for the dog walking company.
Business owners have an excellent opportunity to find their target audience with content that entertains, educates, and ties back to their business goals.
2. Increase Organic Traffic To Your Site
Relevant content is the backbone of a successful blog, and as you publish quality content, you will start to appear at the top of search engines for search terms that your customers are looking for as they search for a solution to their problems or needs.
Content marketing focuses on driving traffic to your site by appearing in search engines with content that addresses your customers' needs. Whenever someone types something into Google, they are asking a question.
You can write your blog content and follow essential optimization tips to help your content appear at the top of SERPS and drive more qualified clicks to your site.
As you publish more great content based on your customers' needs, you will start to see more website traffic to your site. More high-quality traffic to your site will lead to more sales, bookings, and client requests.
3. Establish Yourself As A Thought Leader
Your business blog is the best way to establish yourself as a thought leader in your industry and build trust with your readers.
The fact is that your customers will not buy from you unless they believe you can solve their problems, trust your brand, and feel that you will deliver the best value on the market.
Since there are so many options on the market that your customers could choose from, you can use relevant content to add value to your readers and begin the trust-building process.
As you publish quality content that connects with your readers, your target audience will naturally return to your site and see you as an expert in the industry.
Not only will this help your rankings in search engines, but it will also help you secure recurring sales throughout the year.
4. Generate Lots Of Inbound Links
If you want to rank higher than your competitors, you need to generate lots of quality links back to your site. Link building is one of the essential parts of any SEO strategy.
As you write more high-quality content on your business blog, other bloggers will find your content and link back to your site in their blog posts.
Backlinks from authoritative websites signal Google that your content is trustworthy and a thought leader in the industry. As a result, your blog posts and the entire website are higher in search rankings.
5. Enjoy Long-Term Results
It can be overwhelming when you start writing blog posts for your business blog, so it's important to remember that blogging is a long-term SEO strategy.
You will only see the benefits of a blog after you consistently create great content for your target audience because it is only after this dedication that you will become a thought leader and a trusted source in your industry.
However, the hard work can pay off big time as you build up your library of high-quality content.
Imagine having a piece of content that answers burning questions that your customers ask years after you hit the "publish" button.
Not only will your content become an asset for your company, but it can also drive sales throughout the year and help you build the foundations of a great brand right now.
Your business blog will provide more benefits to your business than just the fuel of your SEO strategy, and you will see lots of long-term benefits like:
Build A Relationship With Prospects: People are looking for answers, and your blog content can drive more customers to your site. As readers turn to you for their problems, they will naturally gravitate towards buying from you because you've helped them in the past, and they trust your insights on the subject.
Build The Customer Journey: There are several steps that customers need to take in the Customer Journey, and your blog content serves the perfect mix of education, entertainment, and persuasion to drive a sale. Blogging can fulfill customers' needs throughout the Customer Journey, so you can reap the rewards of great content for years to come.
Support Social Media: If you want to reach as many people as possible on the Internet, you need to build a relationship across various channels utilized by your target audience. You can repurpose blog posts on Facebook, LinkedIn, and Pinterest to expand your reach across the Internet without much effort since you already have great content on your blog that you can use as a base for those social media posts.
Support Your Salespeople: You want to drive qualified leads to your salespeople, so they have the best chance to close each sale that comes their way. You can write blog posts about frequently asked questions (FAQs), so potential customers can research their problems before talking with your team. This will help your team close more sales, waste less time on unqualified leads, and boost your company's overall sales efforts over time.
Now Is The Time To Start Blogging For Your Business!
What do you think of the benefits your business blog can get for you? More traffic, leads, and authority. And that's not all!
You might be itching to start one too- but don't worry because we've got just what will help with those first few steps in creating a successful blog. The good news is that you likely already have all the marketing tools that you need to start a great blog and drive business to your site!
You want your business blog to be a tool that helps grow the success of what you do and who you are as an individual. It's time for action!
How StrategyBeam Can Help Your Blog
The thought of starting a blog can be overwhelming, especially if  you already feel like there aren't enough hours in the day. Running a business or a marketing team comes with endless tasks and demands.
We understand and are here to help! We can handle your blogging needs so that you can focus your energy on other parts of the business. We have helped countless businesses and individuals save time, save money and avoid headaches by building a quality library of content with our blog writing services.
We have experience across various industries including but not limited to construction, travel, hospitality, translation, HVAC, real estate, import/export, drug & alcohol rehab, tech accelerators, virtual conferencing, photography, beverage and many more.
Our blogging process is easy, straightforward and transparent!
Intro Call: We will set up an intro call to learn about your business and your goals.
Research: We research your company, competitors, industry, and keywords to ensure we deliver content that is accurate, relevant, quality and engaging.
Delivery: After the introduction call and research we will start constructing your blog and deliver it to you by an agreed upon date.
In addition to our simple onboarding process, all our blogs are SEO optimized! That means your blog will have professionally written meta descriptions, meta titles, relevant keywords, structured content and links. Email, text or call us today if you'd like to partner with us.