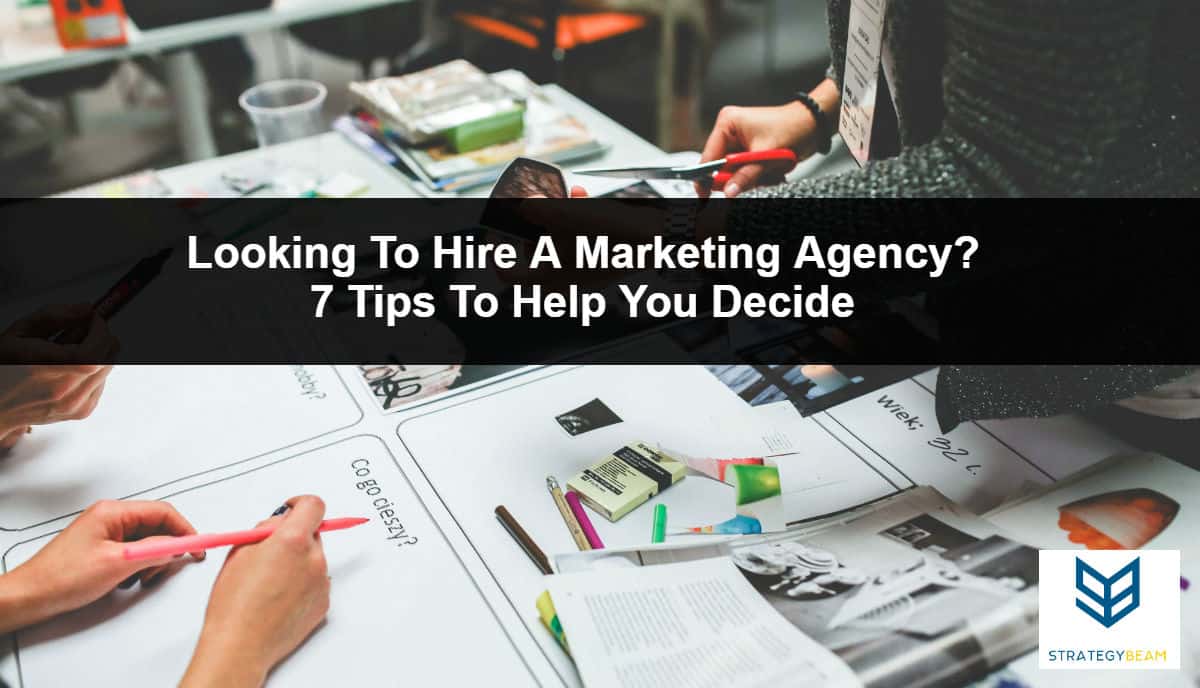 Choosing A Marketing Agency
You have a lot on your plate, and selecting a marketing agency can be overwhelming. If you are reading this, then you know that you need a digital marketing firm to partner with you, but you may not know the right questions to ask or how to get the help that you need.
Even worse- there is a lot of misinformation out there about marketing agencies. On top of not knowing the marketing services you need, you have to worry about hiring a marketing agency because:
The online marketing agency may not know what they are doing.
The marketing firm that you choose may fail to meet your needs.
You could hire a web marketing agency that is shady and gets you penalized by Google.
And the list goes on…
You want to hire a marketing firm that can walk with your company to provide expertise to help you transform your business. You need to reach your goals, and the right KPIs is how you measure your success along the way. If you want to bring your business to the next level, then you need a marketing firm that will give you the highest Return On Investment (ROI).
Let's take a look at everything you need to hire the right digital marketing agency. We will look at everything from:
What you should expect when working with a marketing agency.
What makes the right online marketing agency.
The types of marketing services you should look for.
Questions you need to ask before hiring a marketing firm.
What Does A Marketing Agency Do?
In simple terms, a marketing agency will help you improve your brand, drive more traffic to your site, generate more leads, and boost sales for your business. The goals that a marketing firm will help you reach will vary based on your industry and business goals.
Hiring a web marketing company means that you will be able to partner with an expert in the field to help you reach your business goals. They do this by using their talent and years of experience to help you drive your company's bottom line.
There is no end to the number of marketing agencies fighting for your attention. There are big agencies, independent freelancers, and everything in between. While the size of the agency usually doesn't matter when choosing a marketing firm, you should select an online marketing agency that offers the services that your company needs like:
No matter the type of agency you choose, you should only hire a marketing agency that will help you reach your target audience.
Why Companies Hire Marketing Agencies
Every business is unique, and each activity could have a number of reasons for hiring a marketing agency. Before you start calling or emailing marketing agencies, you should talk with your team to decide if you actually need to work with a digital marketing agency.
Here are a few questions to ask your team to determine if you need to hire a marketing firm in the first place.
Is your in-house marketing team getting the results your company needs? There is a lot of pressure on in-house marketers to deliver results, but in-house team members can only do so much. In some cases, you may not even have a marketing team in your company, and either way, you should consider reaching out to an online marketing agency to help fill in the gaps.
Does your in-house team lack expertise? Due to financial constraints, you may not be able to hire a full team of marketing experts. It's not unusual to have a small in-house team, and you can hire an internet marketing agency to bring the expertise you need at a fraction of the cost.
Do you have enough room to hire additional employees? Your marketing team likely has a lot of work to do, and you may not have the room or desks in your office to expand the marketing team. Hiring an internet marketing company can make sense in this case because the advertising firm will work out of their own space and not require your office space.
Is your current marketing agency is under-performing? Have you ever questioned if your current marketing firm is doing enough to get the results you need? In this case, you should research a new internet marketing company to help you reach your goals.
The reasons that you could want to hire a web marketing agency are almost unlimited. Choosing the right internet marketing agency for your business is critical for your success!
What Makes A Good Marketing Agency?
So, at this point, we have looked at what a marketing agency does and why you may want to hire a marketing agency. Now its time to look at what you should look for in a good marketing agency before you hire a marketing firm.
1. The Marketing Agency Is Results-Driven
I know this goes without saying, but when hiring a digital marketing agency, you need to choose a firm that will focus on getting results for your business. After all, when you hire a marketing agency, you're investing time, money, and resources with the expectation that the marketing firm will help you meet your goals.
A right online marketing agency will provide regular reporting to update their clients about campaigns, progress, and the results of their investments. Each report should offer an analysis with recommendations about improvements to drive better outcomes. You should expect an agency to provide a sample of past reports so you can be sure that the agency is transparent and uses data to drive results.
2. They Have The Knowledge & Expertise You Need
A good internet marketing company is made up of the best talent in the market. You should expect an advertising agency to have several years of experience in the different marketing channels that you need. Here are a few things you should consider when hiring a marketing agency:
Does the marketing firm have a team of web developers to build you a new business website?
Will the marketing agency handle all copywriting tasks, or do they outsource it to other freelancers.
Will, the potential advertising firm, handle all PPC management, or will they hire other marketing companies?
If you want to improve your rankings on Google or drive more sales through online sales, then you need to hire a digital marketing agency with the expertise in that channel. You should focus on a web marketing company's history and success in PPC marketing if you want to generate more leads quickly.
However, you should make sure that the online marketing agency of your choosing has the tools and expertise in blogging and inbound marketing if you want to improve your online presence and build thought leadership through blogging.
You can take a look at the advertising agency's online reputation and ask for case studies to learn if they have the skills you need. You should never hire a digital marketing firm without first talking to past clients or other references.
3. Will You Talk With Experienced Marketers?
When you hire an internet marketing agency, you should expect access to a team of experienced marketers. When you first contact an advertising firm, you will likely talk with the sales team, and then you will speak with team leaders.
It's vital that you know who will be working on your project on a day-to-day basis. You should expect an introduction from the people doing the work so you can build a relationship with them.
A sneaky trick that some marketing will do is put you in contact with the most knowledgeable people in the company or account managers. Then, after a few months, you will be moved to communicate with lower-level marketers who do not have the experience you need to deliver results.
You should expect to have contact with the people who do work for your business because this is the only way you can make sure your goals are being met. You should expect your digital marketing agency to have:
Good relationship building skills.
Attention to detail and quality of your marketing projects.
Excellent communication skills.
The ability to set expectations and describe how you will reach your goals.
4. Understand The Digital Marketing Landscape
Digital marketing has become a necessity for every business. Even if your company and industry do not focus on digital marketing, you need to build out your digital marketing campaigns if you want to stay competitive and reach new clients.
A right agency will know how to connect the dots between different marketing initiatives and show you what you need to do to reach your goals. Be sure to ask every advertising firm you talk to what they recommend and how they will help build a profitable marketing campaign for you.
5. They'll Ask Lots Of Questions
A good internet marketing company should work with you as a partner. It is their job to help you grow your business and reach different goals, so you should expect to hire a digital marketing firm that spends the time to ask you questions about your company to:
Generate new ideas for potential marketing campaigns.
Discuss marketing budgets to help fuel strategies.
Understand what your business needs so they can deliver measurable results
Asking lots of questions during the onboarding process is essential because this is how the web marketing company will get to know your company. But the problems should not end here. You should expect the marketing firm that you work with to ask questions throughout the year to help define different marketing initiatives.
Asking questions is suitable for the advertising firm because this is how they can be confident in their suggestions. Questions are good for you because it shows you that the internet marketing agency is doing their research and it provides you the opportunity to guide the success of the marketing initiatives.
If a marketing agency does not ask you lots of questions when setting up new marketing campaigns, then you should consider hiring a new marketing agency.
6. The Agency Needs To Be Transparent On Costs
When you hire a digital marketing firm, you should expect to know exactly how much you are spending on how your money is being used. You have the right to know how your budget is being used, and you should not put up with hidden costs.
A good internet marketing company will be transparent about how much they charge you. Unfortunately, some advertising agencies will bake their management fee into the total monthly marketing costs that they bill you for. While this does not sound too bad, it means that the advertising agency is not spending your budget on things that will yield you better results.
Your marketing agency should help clarify the scope of work and the costs associated with their services. You should require an advertising agency to break out costs for you without lumping everything together. This will look differently depending on the marketing campaigns that you are running, but you should not allow a marketing agency to charge you a flat fee without first breaking out your monthly billing.
7. All Marketing Agencies Need To Market Themselves Well
You likely looked at lots of websites as you went through the process of hiring a web marketing company. A good marketing agency should have a website that is easy to navigate and provides you with the information you need to make a decision.
They should have a blog that is updated, a strong online presence, and have a few active social media accounts. If an advertising agency can't market themselves, then how can you expect them to know how to market your business properly?
Take The Next Step To Hire A Marketing Agency
OK, we covered a lot over the course of this post. We looked at what a marketing agency does, what makes a good marketing agency, and how you can identify a good online marketing firm from a bad one.
With this knowledge in hand, you can be more confident that the marketing firm you choose to hire will be a good fit for your business. The next step is to reach out to a few marketing agencies that stand out and start asking questions. If you are ready to take the next step, then be sure to fill out the form below to request your free consultation today with our expert team of marketers. We look forward to speaking with you soon!