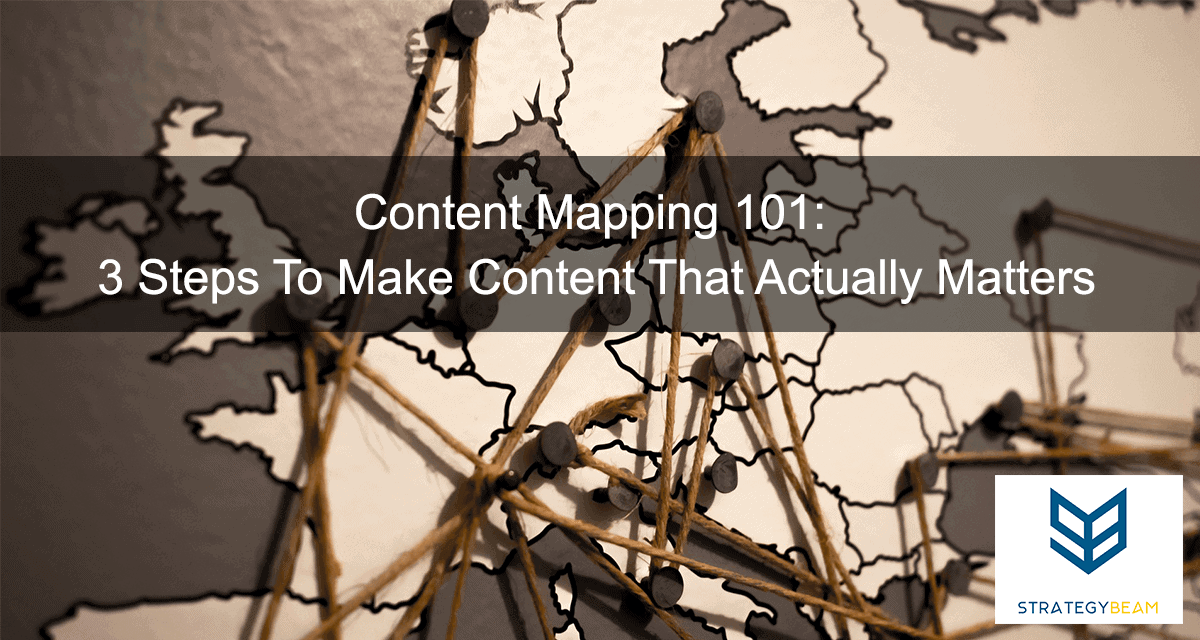 [ Updated 1/1/2019 ]
What Is Content Mapping?
Content Mapping provides a clear and organized structure so you can plan, create and measure your content from a strategic level. This visual map technique helps you organize and understand how all your content interacts and determine what structure you need to support that marketing strategy.
If the content is a fuel that drives a marketing strategy, then the content mapping is the headlight that allows you to see what your business must do to execute a successful content strategy.
Many businesses understand the benefits of content and many business owners jump right into producing and distributing content. The only problem is that jumping right to producing content means they won't be able to plan and structure their efforts if they don't have a way to observe the workflow anticipate interactions between your content. This results in wasted time and money.
Content Map Example
Let's take a look at an example of a content map I created for a client. Please note that this is a pretty high-level view and does not show specific inter-workings of email campaigns, blog posts, etc.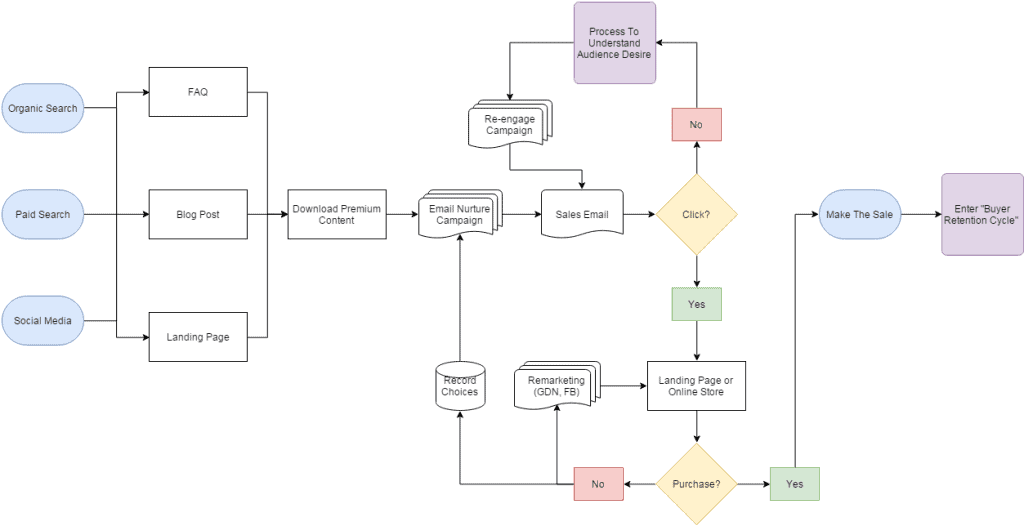 Why Should You Use Content Mapping?
The only way to create content that captivates your audience is to produce high-quality content that creates an experience.
Chefs know how to think through a dish preparation, what foods will be paired with each other, and how it will taste before anything hits the stove. Chefs take the time to imagine how each course will feel when their guests take the first bite. How the light sauce will pair with the chicken and side dishes.
Remember, the whole idea of mapping out content is to build a relationship with your audience that will allow you to make an exchange with them. This trade looks different from one stage to the next, and should reflect the content strategy for your business. The main thing is that you don't want to rush your audience at any stage.
Instead of writing a bunch of theoretical ideas (ain't nobody got time for that) I decided to make a quick diagram below. I plan to expand it out, but this is enough to answer the question of "What does content mapping look like?"
The same kind of thoughtful approach must be taken when thinking about different pieces of content.
A chef doesn't throw a piece of chicken on a plate and call it a meal. They understand that the chicken and side dishes must work together to create an experience. That each piece of the course plays its part in the entire meal.
The days of one-off content are over. Your customers are very picky, and your business needs to build a relationship to get the upper hand on your competition. A content map allows you to have a top-down view, so you can make better decisions on the fly, and prepare for future marketing initiatives.
Your Content Mapping Strategy
It's not that mysterious… but making it happen is usually the tricky part.
Also, even with the above guide, you are still going to need to align specific content to the needs and desires of your audience at each stage. You can do this by referring to your User Personas and other research.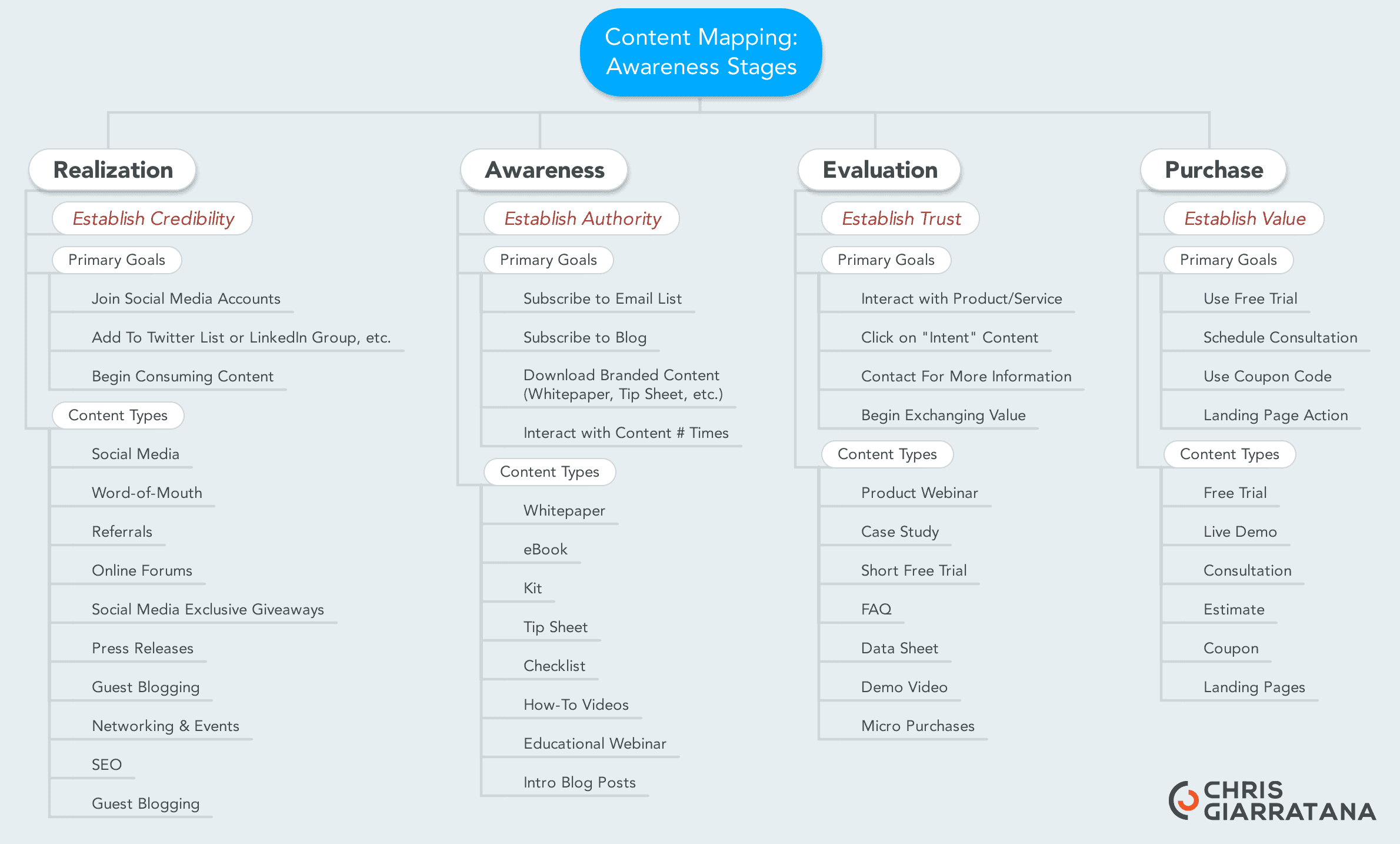 Each stage must frequently be reviewed, and you should continually validate that your assumption and customer preferences are accurate by performing constant customer validation assignments.
When To Move
One of the biggest issues to content mapping is when an individual should be transferred from one stage to the next. These are known as "triggers" and they are dependent on several aspects, including:
Product lifecycle
Market segmentation
Product/service price, distribution, and availability
Industry
Sales process (B2C, B2B, etc.)
Aggressiveness of business
Determining these "triggers" are vital to map out your content with any degree of success. An essential part of defining the "triggers" is to measure the success of specific routes your audience takes. For example, you need to measure the engagement of your email marketing to know who is interacting with what content.
The same can (and should) be applied to all channels your audience interacts with. This type of insight will help you move individuals along by knowing the specific pieces of content they are working with.
1. User Personas: The "Who."
User Personas are tools that your business can use focus messaging for your audience. When you create a user persona, you are generalizing trends, characteristics, demographic information.
This information helps you understand your audience on an intimate level. Always build out robust user personas before attempting to map your content.
2. Customer Journey: The "Where & When."
Now that you have some excellent user personas, you are ready to move on to looking at the client's journey.
The customer journey includes all stages that your audience goes through before they consider buying your product or service.
This tour looks at each stage of their buying process. Here are the three top steps:
Awareness
Definition: In the recognition stage, your audience realizes their perceived pains or desired gains. At this juncture, your audience is beginning to:
Confirm their concerns
Solidify their position
Research options to fulfill their desired outcome(s).
Content To Use: 
Social Media
Google Display Network
TV/Radio
PR
Newspaper
Review blogs and websites
Webinar
Consideration
Definition: In the consideration stage, your audience can define their needs and expectations. Your audience:
Done their research
Able to discriminate amongst their options with a fair degree of certainty.
Content To Use:
Review section on your website
Testimonial pages
Informative landing pages
Blog post reviews
Product category pages
eBook
FAQ
Decision
Definition: The decision stage is the point where your audience is ready to buy. They have done their research and comparisons. In the decision stage, your audience:
Define their solution strategy or method to fulfill their needs.
Informed about their options and focused on taking action.
Content To Use:
PPC
Email Marketing
Sales landing pages
Squeeze pages
Direct mail
Coupons
SMS
App download
3. Follow The Map: The "What."
A detailed user persona allows you to drill-down the needs and expectations of your audience. Once you know who you are working with you can see where they are in the Customer Journey. This information helps you create a plan to produce quality content.
Content mapping allows you to create a lasting relationship with your audience.
Regardless of the demographic, each goes through this process to arrive at the point of purchasing your product or service.
Take time to work through the Customer Journey by mapping your content to align with the desires and expectations of your audience!
Map Content For Success!
If you want to get the most out of your content then you need to think through how the content will be used and consumed. Map your content to ensure that you can reach your audience and drive more sales today!
One thing I was not able to incorporate in this diagram is how you can move customers from one stage to the next. This is an entirely different conversation that requires an intimate understanding of how to leverage various channels, platforms and messaging to provoke action from your audience.
For example, a solid Call To Action will be utilized at each stage, but their wording, tone, and approach are quite different from one to the next.