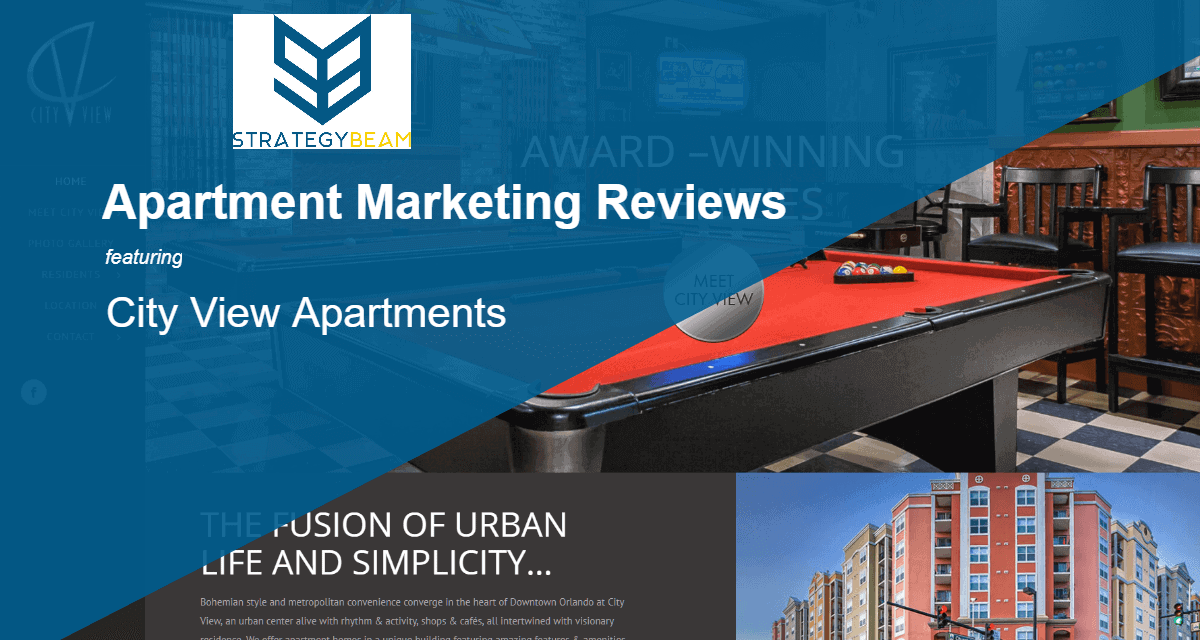 Hey everyone, this is Chris from StrategyBeam, and today we're going take a look at City View Apartments here downtown Orlando. Today we are going to get some apartment marketing ideas by reviewing this website. To do this, we will are going to take a look at the four most important parts of the department website, the homepage, the amenities, the photo gallery, and the floor plans.
These are pages that show the most value of the apartment and that the average user will go to most frequently. We will see some ways to improve this website with a thorough website SEO audit.
Let 's take a look and see how this department does on those four pages.
Apartment Marketing Website Homepage Elements
Here's the homepage. We can see very vibrant colors here and al it's nice that they chose a picture that differentiates them.
This picture shows that they have a pretty cool game room. If you're the demographic who would want to play pool, then you're the kind of person who might want to come here and sign the lease.
I liked that they put the award-winning amenities front and center, and they emphasized the apartment marketing phrases by placing the text right above the red pool table. The red will draw your attention, and then this is what sells it.
One thing I think that could have done is instead of going to meet city view; it should have linked directly to the features and amenities page since that's what this wording is up here. Doing this would have made it a little bit more out, a bit more continuity to it. If you want to drive engagement with your audience, then your apartment marketing website needs to ensure continuity whenever your viewer moves from one page to another.
However, that's just more advanced and is probably a little bit too meticulous on my end.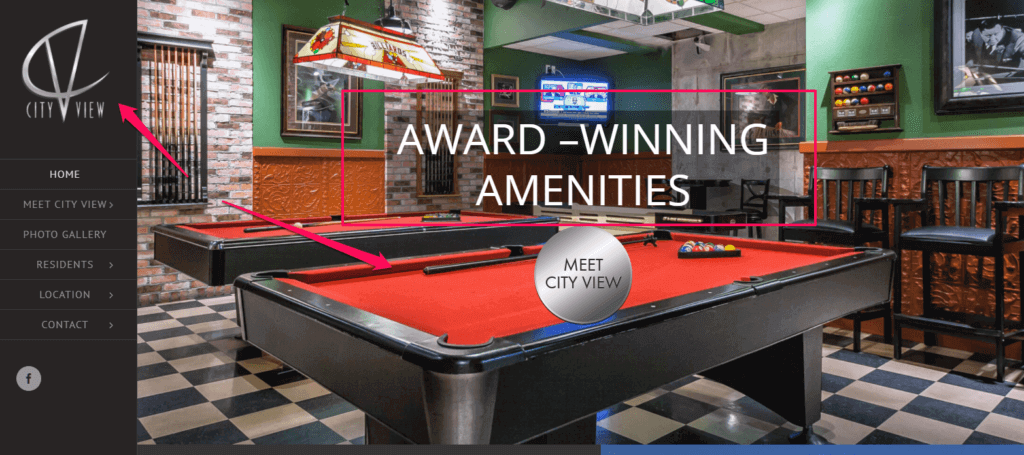 on and come in and book an appointment with you quickly.
As we scroll down, we see this banner here. I like it because it has this cool colors here in the apartment shows that it's trendy, but al has a lot of features and benefits here. Using these pages properly on an apartment website is a great way to improve the overall digital marketing factors for your apartment complex or business.
One thing that I'd recommend is adding hyperlinks from this features and amenities page. There are two features that I'm going to use a page from this wording here, and that would help just with interlinking helps with SEO marketing, plus this approach helps with the user experience.
All of the above is very important that as we continue down, we see there's a phone number, bold. This is great to have because people want to take action now and it says to schedule a private tour. It'd be nice if they had an email or a chat feature. These are just part of the 4 online apartment marketing strategies that you can use to build customized campaigns and drive more qualified traffic to your site, and by optimizing your site you will be able to get more leases signed.
We've seen that in other apartment marketing websites, where it just popped up here to the right and people will click on it. Once the customer clicks on the messenger feature, they have the opportunity to communicate with your staff or send an email if the team is offline.
One thing that City View Apartments does a great job of is utilizing images on the homepage for the photo gallery, amenities page, and then our location. Pictures are vital for successful apartment marketing strategy, and I recommend all apartment complexes take note of how they leverage images for apartment marketing ideas.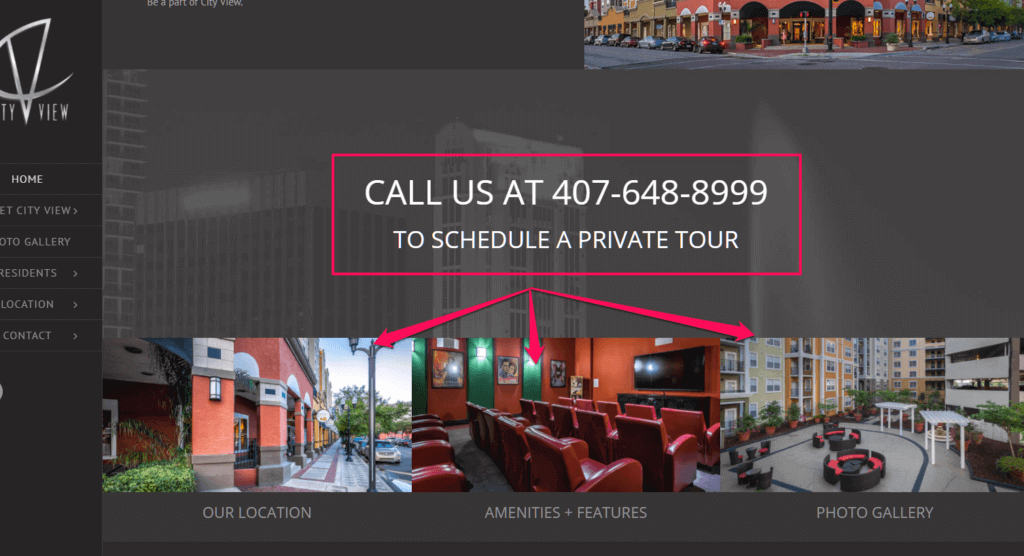 How An Apartment Marketing Website Should List Amenities
Let's go ahead and take a look at the amenities page… and this is it for such a trendy and progressive looking apartment. They have a pretty bland features and amenities page.
What I would recommend is adding me more content in this area to improve their online SEO marketing power. They can add more content by using this page as a source to not only get found in search engines but also provide more value to your customers instead of using this bullet format like you're going to a grocery store, you should be using it for people who are looking for apartments.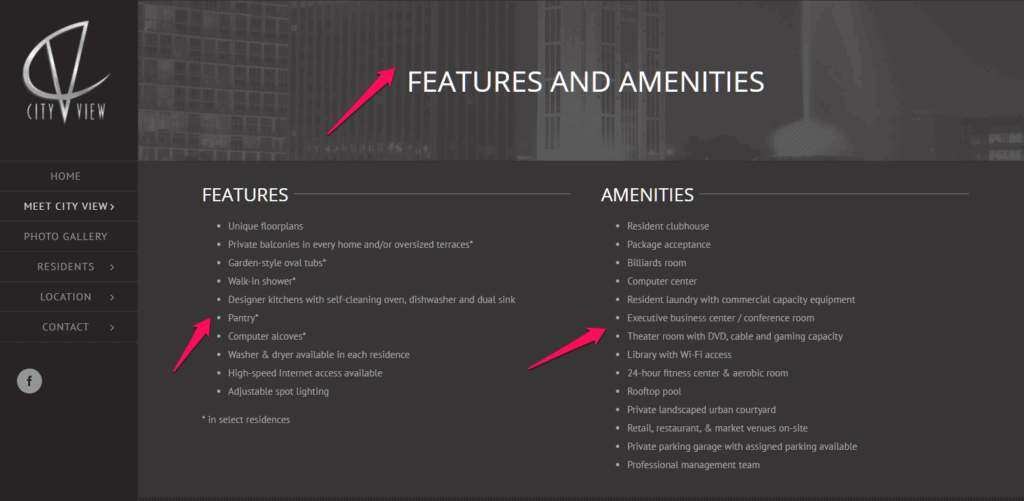 Apartment marketing websites rely on using lots of pictures using very descriptive, value propositions, and then allots of a call to actions and that's something that I'm noticing on this website as well, is that there's not a lot of Call To Actions.
If you look, there should be at least something that's book a tour today or give us a call here. I recommend building this out instead of just bullets points and show the value of your community through intentional apartment marketing ideas like more text.
They could use the photos that they have because it looks like a beautiful location and this just doesn't do it justice. If you are a property manager, then you can find out what messages will work best for you by looking at PPC data to help direct your SEO and website strategies!
If you had the phone number and leasing office email here, I think that would help out a lot. Let 's take a look at the photo gallery. This apartment is probably one of the most beautiful and conveniently located apartments that I've seen.
Apartment Marketing Depends On A Great Photo Gallery
City View Apartments has some great imagery on their website, and their photo gallery is no exception. Looking at this here, that's pretty cool. And they do a great job. The excellent location and views of this community should be shared with more focused apartment marketing ideas that stem from high imagery and content across the site.
City View Apartments could take advantage of the vibrant colors, showcasing the environment, given the lifestyle photos, which is amazing. This is huge, like a pretty big and legit looking workout center, but I don't see that anywhere.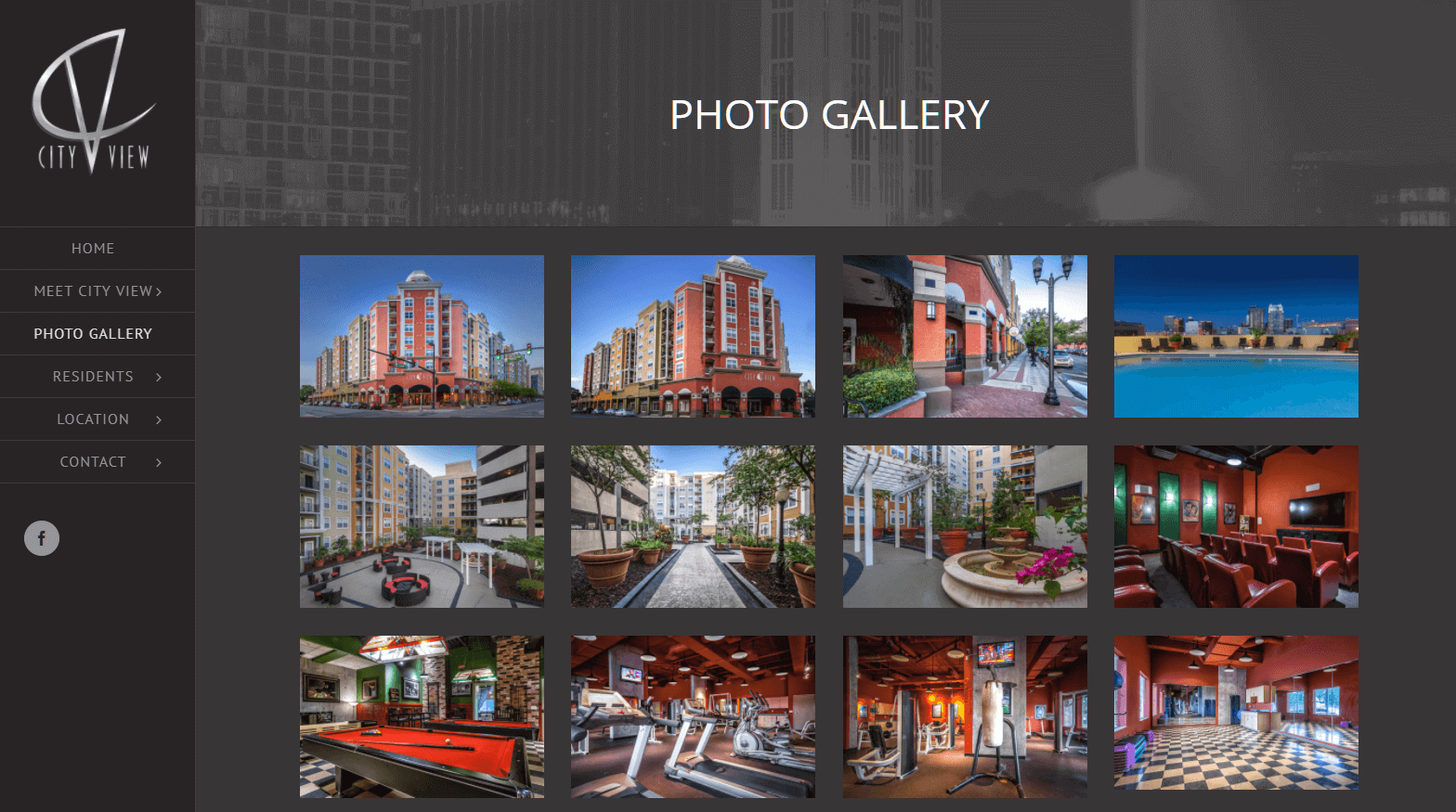 I know that that's pretty important for downtown Orlando residents. Al meeting rooms or our key and then this kind of gathering room would make a great addition to any group of friends looking to get together and watch a movie.
Looking At The Floor Plan Page For An Apartment Community
The other thing I noticed is that they have good room layouts, but they don't connect that with the user progression system that they could with going from one of these images to me of their floor plans.
I think they could improve on that. Instead of just looking at these images, the images. These images should be part of their content assets to help them help the business grow. And this apartment marketing website should include a Call To Action here at the bottom, or even better yet, whenever you pop out one of these images, there should be a call to action at the bottom. You can make more relevant and valuable content for your target audience by creating a content calendar that includes the entire year and customizes content around seasons and the time of year.
This page, even though it is valuable for consumers, it is not going to get a lot of love from Google or other search engines. This is because this page on the apartment marketing website does not have a lot of content to rank.
This is a beautiful apartment, and they have a lot of opportunities here to improve that. And let's go ahead and look at individual floor plans.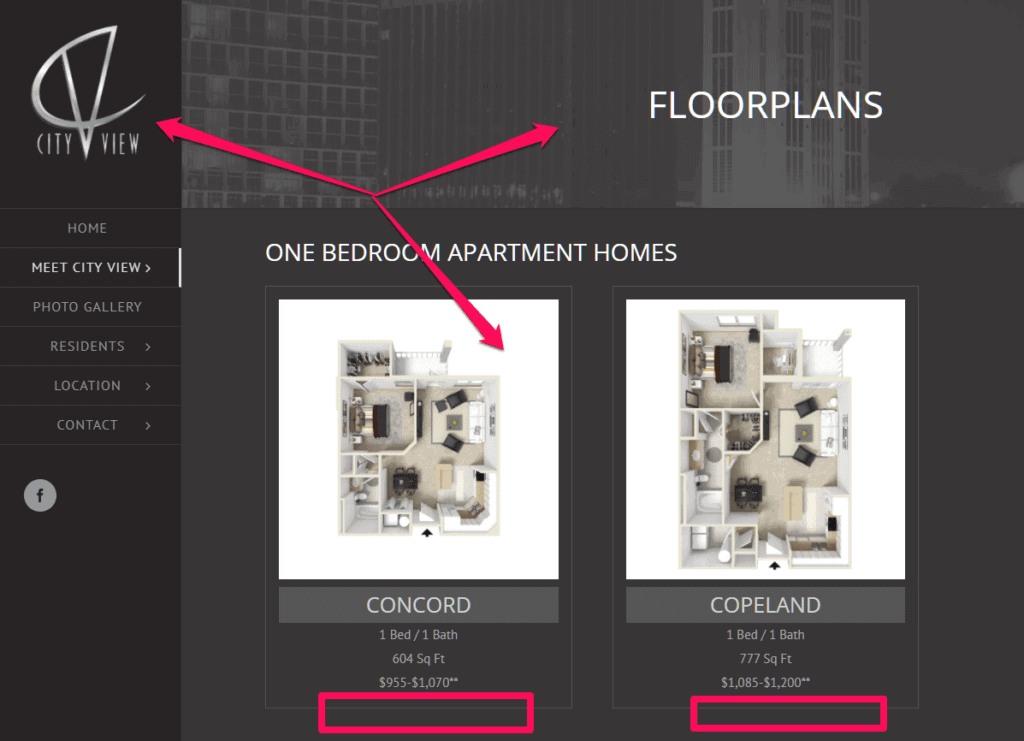 I remember when my wife and I were looking for apartments. During this process, we always look at the floor plans to understand the kind of space that we needed, the type of room that we needed, things of that nature. And this is not providing the type of information that we would be looking for. for example, what's his click on one of these?
The floor plans don't add much to the user experience as they interact with the City View apartment marketing website. It's a pretty cool, a three-dimensional model, which is excellent, but we see that it's not adding any value. This is all part of your content strategy, and you will need to think like your target audience and work with a Content Strategist to drive more results through your website!
They gave me great information here with houses with the size of it. However, there is no button for you to sign a lease now or get in contact with us to reserve this room or this apartment.
There's one thing that I'm noticing with this website is that it doesn't feel as interconnected or like a more significant piece of an ecosystem. It's almost like every page, and every picture is practically meant to like work on its own, which is not how a good website works.
I recommend putting a Learn More information button here that just links to an email address and then also having bars or banners rose to break up the content with a different color and another call to action.
And when you click on the individual floor plans, this section pops out. Once it pops out, the apartment website could offer an additional Call To Action button here.
Placing as many Call To Actions as possible is the best way to go, especially on pages like Floor Plans as we know someone looking at this page is pretty advanced in the Customer Journey.
Improving Your Apartment Marketing Website For More Leases
Today we just looked at the four main components of this website, and overall I would give this website a B-. There's a lot of opportunity for growth, but to be honest, I think a lot of the strength of this website is just the pictures and the images.
The community would benefit by utilizing a little bit better with phone numbers, email addresses, and interweaving the different pieces of content, optimizing me of the material for SEO.
If you enjoyed this video, please give it a light comment and subscribe and also, please share with your friends because that helps us out.
If you have any questions, go ahead and leave him down in the comments below. We'll do our best to answer them until we talk to you next time. Hope you have a great day!