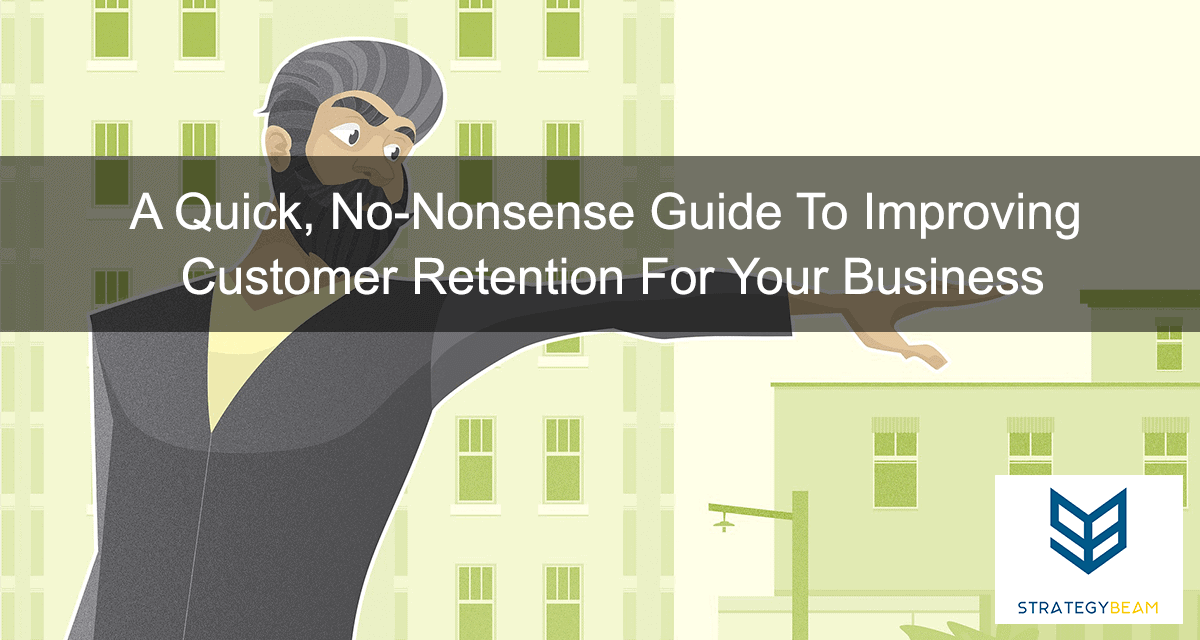 Retention Is An Issue
No matter what the products or services are that you sell, your customers are the most important part of your business.
Without your customers, you have no one to serve, and you have no way to solve problems and make money.
You likely spend lots of time, money, and resources to get new customers. What if you are losing your current customers faster than you can gain new ones?
This is a customer retention problem, and this type of situation will create a bad situation for your business.
Let's take a look at how your business can increase customer retention. These simple steps will improve the strength of your business when implemented.
First Thing's First
Customer retention is not just a "brick and mortar" problem. You do not need to be selling widgets out of a traditional store to feel the pain of poor customer retention.
Online businesses rely just as much on customer retention as traditional physical stores do. Retention is a real issue and has real implications to the health of a business.
It's a relationship problem. If you can't keep your customers around then you can't build a relationship with them.
The first thing to do is look at the primary Key Performance Indicators (KPIs). These metrics give you an idea of what your real numbers are in areas that count. This might be:
Foot traffic
Average monthly sales
Unique Views
ebook downloads
Email signups
Evaluating this information lets you take a hard look at how your business is doing at a higher level. With this information, you can see if you are providing your customers with the right products and services.
If you provide your customers with the best solutions for their needs then they will return over time. "If it ain't broke, don't fix it" applies here.
Your customers carry an opportunity cost when trying to find a new company to do business with. This means if they leave you, it is likely for a pretty good reason!
Think about the journey your customers take from start to finish with your brand.
The first step then is to think about your audience and if you are providing the best value that exceeds their expectations.
Next, you want to look to your current customer base. Take the people who use your products or services. They can help you to gain real-world insight on how well your business is doing and how you can improve your offerings.
Use your current customers as a source to understand all your customers needs. This information is vital to understand desires of all your customers.
If you are not meeting the needs of customers, then don't expect them to stick around.
Focus Deep Not Just Wide
If you see that your customer base has a high churn rate then you are suffering from some issues, including:
Poor customer service
Unmet expectations
Not alleviating address pain points
Not fulfilling desired gains
Pricing problems
Think through your offerings, current customer expectations, and your product. Once you find a gap in existing offerings, it is your job to close those gaps to limit customer churn.
Be specific in your evaluation, because I have seen some businesses who freak out and start changing everything. Yet those changes just drive happy customers away because change is scary to some people.
So be careful how you approach this and be focused in how you take action.
Put The Ball In Your Court
Many businesses don't collect contact information from their customers soon enough in the relationship. In fact, some businesses don't collect contact information of new customers at all.
If someone comes in and is happy, they may not return because they forget or are busy. Automated emails and phone calls can come in handy to remind your customers of their positive experience and invite them to come back.
This also works for online stores, as abandoned shopping carts, bounce rate, and Unique Views can be reduced by having a solid contact list.
Once you are able to identify a retention problem for your business, you are able to take proper steps to keep more of your customers active with your business.
Step out of the comfort zone of assuming and identify weaknesses of your business model and customer interactions. From there you are ready to improve the customer experience and improve retention.
Featured Image / Andresantanams
Now it's your turn. How do you retain customers so your business can succeed? Let me know in the comments below!