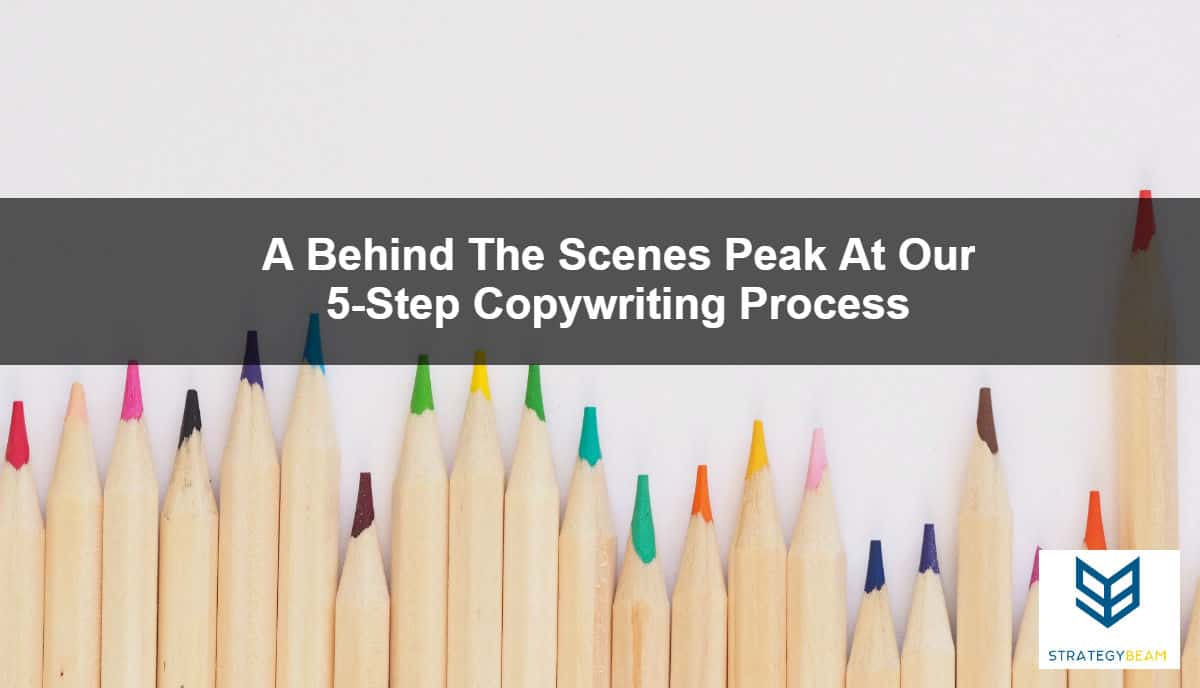 A Copywriting Process That Streamlines Production & Business Results
Are you waiting to update your website or expand your product line because you don't have the funds to hire an in-house copywriter? The good news is that our copywriting services are designed for businesses that are looking for professional content at a price they can afford.
Our website copywriting services are not cheap, but when you hire us, we handle the entire copywriting process from start to finish. You won't have to hire multiple "cheap" copywriters to finish the project. Plus, handing the project off to multiple copywriters only adds headache and confusion to the project, and this type of muddle approach can screw up the deliverables of the project.
Times are tough, and even in a good economy, your business needs to do everything it can drive as much qualified traffic as possible to your site and close as many deals as you can.
Our freelance copywriting team has the experience you need to get the content you deserve. We deliver proven content with a methodical copywriting process and approach to ensure you get the content you need to reach your ideal customers.
1. Research & Discovery
Once we have worked through the logistics of working together and defined the price and scope of your copywriting project, our freelance copywriters will begin the research and discovery stage of the copywriting process.
Our discovery phase of the copywriting process kickstarts the engine that drives the entire copywriting project. At this stage of the process, our copywriters will dive into various resources to learn about your customers and begin to deconstruct the marketing strategy of your competitors. During the phase of the copywriting process, our team goes through a strict methodology to understand various aspects of the market, including:
Your Company: We work with your team to create a complete profile of your business goals. We use a variety of surveys and interviews to make sure we understand who, what, and where your business is going.
Your Products & Services: Our copywriters will gain an in-depth understanding of your products and services. We'll dig into existing sales materials, online documents, and other resources to understand the problems that you solve and how you solve it.
Your Competition: We will begin the vital step to evaluate 2-3 of your competitors to get a better understanding of the market and your business solutions. Together, our teams will review messaging used by your competition to find opportunities to help you stand out.
The only thing that matters to your customers is how your products or services will solve their problems. The Research & Discovery phase of the copywriting process will help us understand what your customers need and how to engage them.
Our copywriting services are focused on getting your business solutions found online by the right people at the right time. You will love that your freelance copywriter conducts in-depth research to supercharge your online presence and drive more sales.
2. Competitor Analysis
Your competitors are actively trying to take you out of the market. The hard truth is that you have to outcompete and outsell your competitors if you want to grow and stay in the market.
One of the pillars of our website copywriting services is that we breakdown and examine your competitors online. Knowing what your competitors are doing and how they think about the market gives you an inside track on how the message, design, and position their products and services.
In addition to peeling away from your competitor's marketing strategy, our competitive analysis can uncover a treasure trove of messaging ideas, optimizations, and other valuable information. Here are a few questions that a competitive examination will answer throughout the copywriting process:
How are your competitors optimizing content to get found online?
What makes your company unique? How can you stand out from competitors on the market?
How do customers see your competitors? How do customers view your business solutions?
How does your website, content, and messaging stack up to your competitors?
Your freelance copywriter will use these insights to direct the copywriting process across your entire strategy. There is a great deal of untapped information that your business will gather from a thorough competitive analysis through our copywriting process.
A competitive analysis guides the copywriting process to help you boost qualified traffic, improve Conversion Rates, and increased sales.
3. Content Brief
A content brief is simply organizing all the information we found in the previous steps to organize the next steps. This part of the copywriting process is vital because it ensures your content is concise, focused, and specific to the needs of your business and customers.
Now that we have a strong understanding of your products and services, business goals, and customer needs, your freelance copywriter will put all the pieces together into a single organized content brief.
Our copywriting team will build a brief for each piece of content before we write anything to ensure we are on the right track, and each brief includes several aspects, including:
Type of Content: We will identify if the content we are writing is for a blog post, a sales page, a product page, etc. This information sets the stage for the tone, message, and production of your content.
Length of Content: We don't write copy for the sake of writing content, and our copywriters will meet the demand of your content length.
Scope of Content: This part of the copywriting process will identify the context of the content. Your copywriter will outline what you are trying to accomplish, the job that the content is looking to fill, and how the content will appear on your pages or posts.
Audience Focus: We will notate how we will speak to your audience based on the information we found in previous research phases. We will include frequently asked questions, pain points, and other hot topics to include in the final content.
Content Keywords: Your freelance copywriter knows how to write content that gets found in Google and drives conversions. We have years of experience weaving keywords into content that your customers love in an organic manner to get the attention of search engines and human readers.
The content brief is an important part of the copywriting process because it leads the content writing process because it brings all the moving pieces together into a single go-to reference document. We will present the content brief to you before we start writing a single word, and you will be able to give us input.
4. Writing Copy & Launch
Now it's time to bring everything we gathered throughout the copywriting process and turn it into content. Your copywriter will craft unique content that makes your readers realize their problems and then compel them to engage with your solutions.
Sometimes the first draft will be the last draft. Other times you will have some recommendations after reading the initial draft, and your copywriter will take the notes to update the content before the final draft is delivered.
Our team will work with your design team to write your content in a way that fits into the design of your pages and overall brand presence.
5. Ongoing Conversion Optimizations
Your website and online content are living documents. Unlike stone statues, you have the ability to change the look and feel of the content on your website and blog.
Once your content is published, and you see results, our team can work with you with monthly updates to help you rank higher in search engines. Our content engineers are skilled in data analysis, content production, and conversion optimization, so your business has everything it needs to continue to beat your competition.