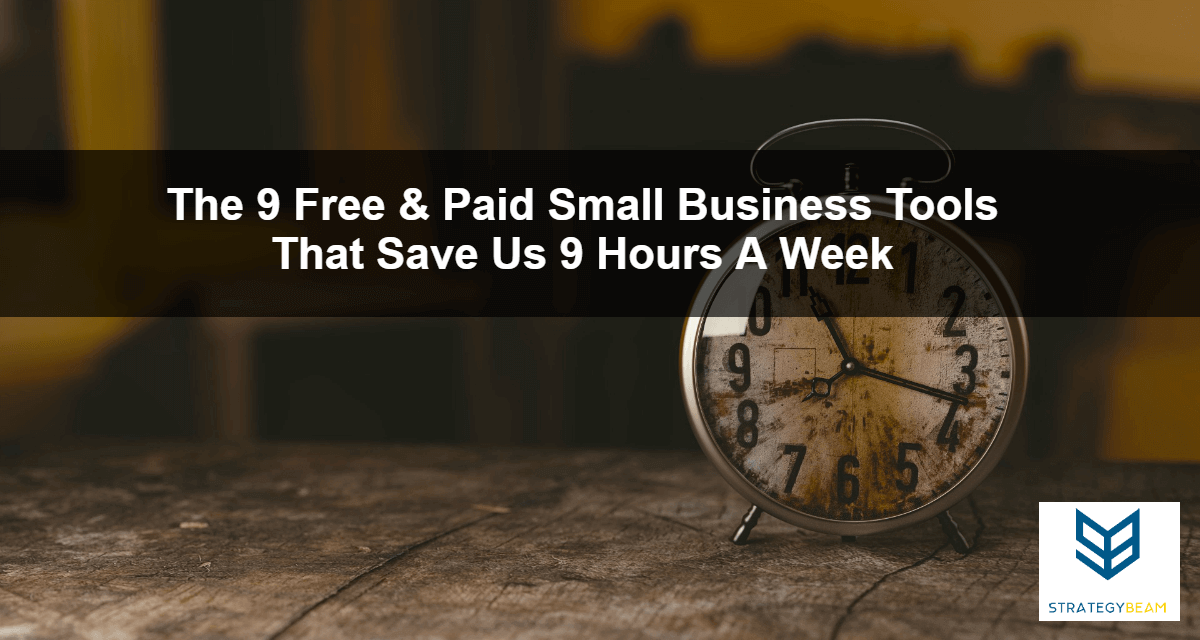 Small Budget Doesn't Mean Bad Business
If you are like many small businesses in the U.S., then you know the constant struggle between owning the best tools to do your job but watching over a tight operating budget. While there are many online marketing tools out there that can help you grow your business and save you time, those devices are often expensive and out of the reach of many small business owners.
Instead of wasting resources on tools that you might not need, you can use free (and cheap) alternatives to the most popular marketing tools out there. Not only will this approach help save you money, but the real value is also leveraging these tools to save you time each day. As a result, you will be able to spend more time on the tasks you need to accomplish to grow your business, spend time with your family, and focus on your customers.
We recently published a giant list of the best free small business tools that you can use. However, we wanted to show the tools that we use here at StrategyBeam each day that help us grow our business and make our customers money.
Take a look at the list below to see if you could use these tools for your own needs whether you are a nonprofit organization or a small business owner!
Grammarly
If your business is like ours, then you write a lot of content. Grammarly is the secret weapon that we use every day!
No matter what industry you work in or your target audience, you likely produce a lot of content.
From responding to emails, creating great blog posts, writing website pages, and updating social media, it is imperative to check spelling and grammar. Grammarly is the perfect solution to our needs, and it is an automatic checker of grammar, punctuation, and spelling that we use for everything that we write throughout the day.
While we might produce more content than most since we offer freelance copywriting services and we also market our own business, it is likely that you provide enough content to justify having a second set of eyes to look over your emails and blog posts before you hit the publish button.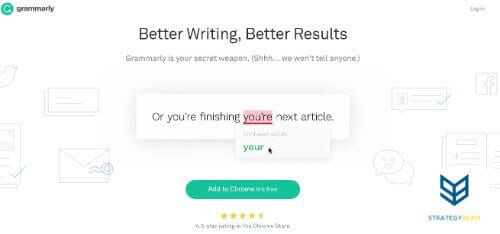 Since our business relies on building trust with our customers and prospects, we take a lot of pride in producing valuable content.
Sure, not everything we publish is free of errors, but as we grow, we knew we needed to take every measure possible to give our readers the best experience possible.
This is why we started using Grammarly. Not only is Grammarly one of the best ways to catch stupid mistakes missed while writing, but it is also an excellent bargain for proofreading/editing needs of any small business. Grammarly is the second set of eyes we need to ensure that our online content is polished for our customers.
Grammarly offers an intuitive User Interface so you can either write your content in the editor or copy/paste from your writing tool of choice. Once your content is loaded into Grammarly, the program will search through your paragraphs to identify spelling and grammatical errors.
If you purchase the Professional version, Grammarly will even show you some excellent suggestions to improve your copy beyond simple typos.
Buffer
Social media marketing can be time-consuming, but we like to share interesting stories on our blog and other websites. Buffer is our preferred tool to help us scale our social media game while also saving time on the manual process of posting so we can focus on our customers and business growth.
In the past, we would manually Tweet and share information we read as we read it, but this proved to be inefficient and resulted in limited online engagement with our followers.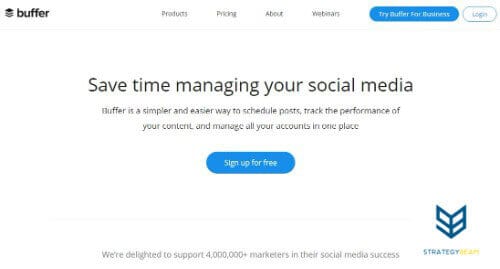 Instead of Tweeting and sharing content on social media, we use Buffer to schedule evergreen content to be shared online. This allows us always to have a baseline of material that is being shared and ensuring our online audience continues to follow us.
We also like to use Buffer because it helps us retain a strong online social presence without having to invest the time and energy that would be required otherwise.
While we still manually submit exciting content to social networks, Buffer is a great way to make sure that our business maintains a consistent online presence. We love to use Buffer because it helps automate social media and helps us focus on building value for our customers all while growing our business!
Skitch
We are visual learners, and we love to include screenshots in our blog posts and online content because it improves readability for our audience. Skitch is a great way to show our ideas and examples through screenshots because they are a great way to share a complex idea in a visual format.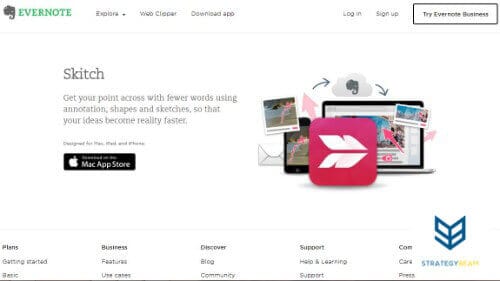 In the past, we used several methods to capture screenshots, but they were all tedious and required several programs to take the screenshot, format, and add visual elements. This meant it needed a lot of time and energy to make and share screenshots in our blog posts.
After a while of struggling with the inefficient methods of screenshots, we found Skitch and have not turned back. Not only is Skitch an easy to use tool to take beautiful screenshots, but it also has all the tools we need to add arrows, highlight boxes, and crop the screenshots to our needs.
Content Gems
Finding great content to share on social media can be a difficult task, but Content Gems makes it easy to find topical content based on a set of keywords. Instead of searching through Reddit or other news sites, Content Gems provides a comprehensive library of fresh news articles to choose from and share online as you need.
This is also a great tool if you are having a difficult time choosing a topic to write about for your blog. You can use Content Gems to find exciting news articles based on your set of keywords, and this can be the inspiration you need to write the next great blog post that is valuable to your customers.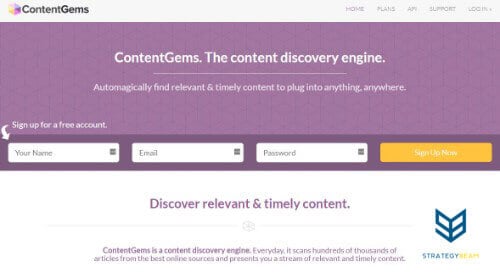 Excellent social media tool + ultimate content curation all in one tool? Awesome
Content Gems is one of the go-to tools for our business because it saves us about 5 hours each week as we continue to grow our social media strategy. Pair Content Gems with Buffer and you have a powerful toolkit to help keep your Twitter, and other social networks topped off.
Ahrefs
Our business uses data from Ahrefs for some tasks, from keyword research, link building, and content curation.
It's one of the most valuable tools that we use on a daily basis because it saves us time while also generating insight to make money.
While Ahrefs is a tool that many small businesses don't need, it is a tool that comes in handy every day for our SEO marketing services.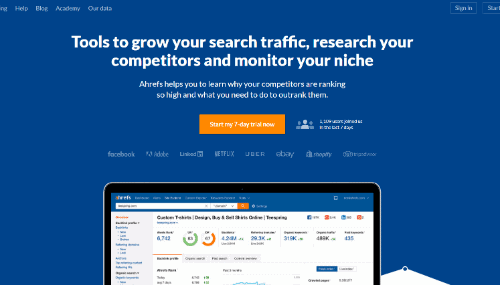 We love to use Ahrefs to keep track of our website, while also using it to research our competition and find opportunities in the market. Ahrefs is about $100/month, but the insights and strategic advantage it provides us is well worth the price.
SEMrush
SEMrush is another SEO tool that many small businesses don't need, but it is one of the core SEO tools that we use here at StrategyBeam. SEMrush is essential as we create compelling content because it has some fantastic content research features that allow us to cater our content based on different statistics that indicate the need for our audience.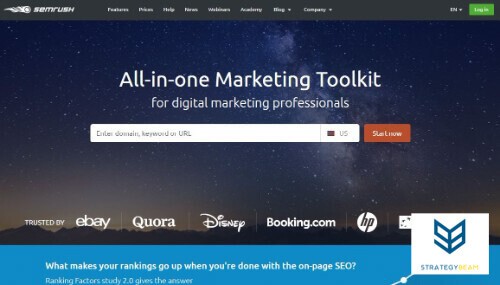 If you are looking for a free (paid versions available) SEO tool to understand how you are performing compared to your competition, then SEMrush could be the tool you are looking for. Even if you are not interested in technical SEO, SEMrush is a fantastic tool to help you generate relevant content that ranks in Google and converts your readers.
Pixlr
Unless you own a professional photography studio or need advanced image editing capabilities, then you likely don't need Photoshop. However, there are not many options out there that are easy to use and powerful enough to handle everyday image editing jobs.
Pixlr is one of the best photo editors that we have used, plus it is a free online marketing tool, so you don't have to install anything on your computer. This means that you can pick up work no matter where you are, even if you are not sitting in front of your regular computer.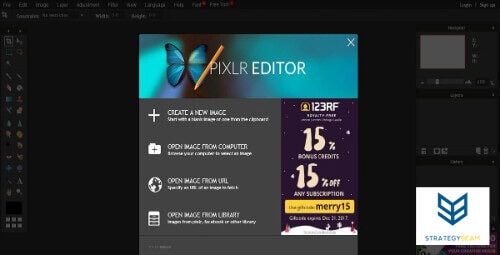 If you are a small business owner who needs to do occasional editing to your images, then Pixlr is the best tool for you. Just go to the Pixlr website, open your image, and use the intuitive tools to make the edits you need.
One of the best things about Pixlr is that you can save images as layers (like you can in Photoshop) with their unique file format. This means that you can make changes, keep in the individual file format, and then come back to your project on another computer and manipulate the layers as needed.
LSI Graph
As we write our blog posts and produce website content, we are always thinking about how to make our content enjoyable for our readers and how to make it easier for Google to index. One way we do this is by using LSI Graph keywords- these are particular keywords that are related to our core keywords but different enough to attract more qualified traffic.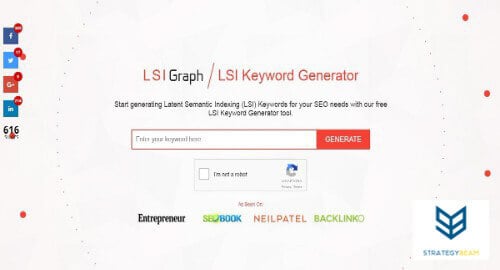 The main benefit to using LSI keywords is that we can make a bigger footprint around a core set of terms, and this allows us to build the strength of our content. If you are a small business owner looking for a free online marketing tool to help direct you toward content creation that will get found by Google and engage your audience, then LSI Graph could be the tool that you are looking for.
Pixabay
Pictures and graphics are an essential part to develop an excellent blog strategy. If you want your content to look professional and stand out from your competition, then you need to include high-quality images in each blog post that you publish.
We use Pixabay for most of our featured images and other visual needs in blog posts. Instead of spending $10 per featured image on many of the large image sites, we use Pixabay to save loads of money while also maintaining a great online presence.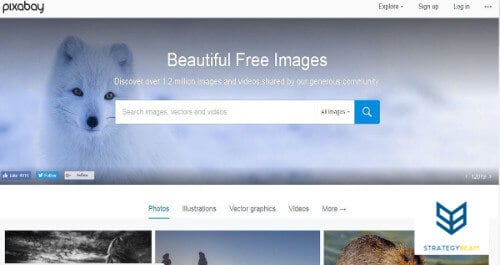 This means that we save money (all photos are free), and these images look great on our blog and we don't have to worry about legal issues that come with using free images.
We don't use Pixabay to gather images for our website, but we use the free image source to ensure that our blog posts and other online content look great and give a professional look. You can use Pixabay with Pixlr to provide that you can make your blog look great and all while saving money, and we know your business will benefit from using Pixabay too.
The Ultimate Free Online Marketing Toolkit
We love finding free and inexpensive tools to help us grow our business while also helping our clients reach their goals.
While there are plenty of expensive marketing tools on the market, we found the above tools to provide the features that we need. We recommend that you test the tools for yourself to see how many hours it can save you!
If you would like a more extensive list of tools, then you should check out the HUGE list of free small business marketing tools we recently created. Check it out and let us know what you think!
We would love to chat with you to understand how we can help you reach your goals!