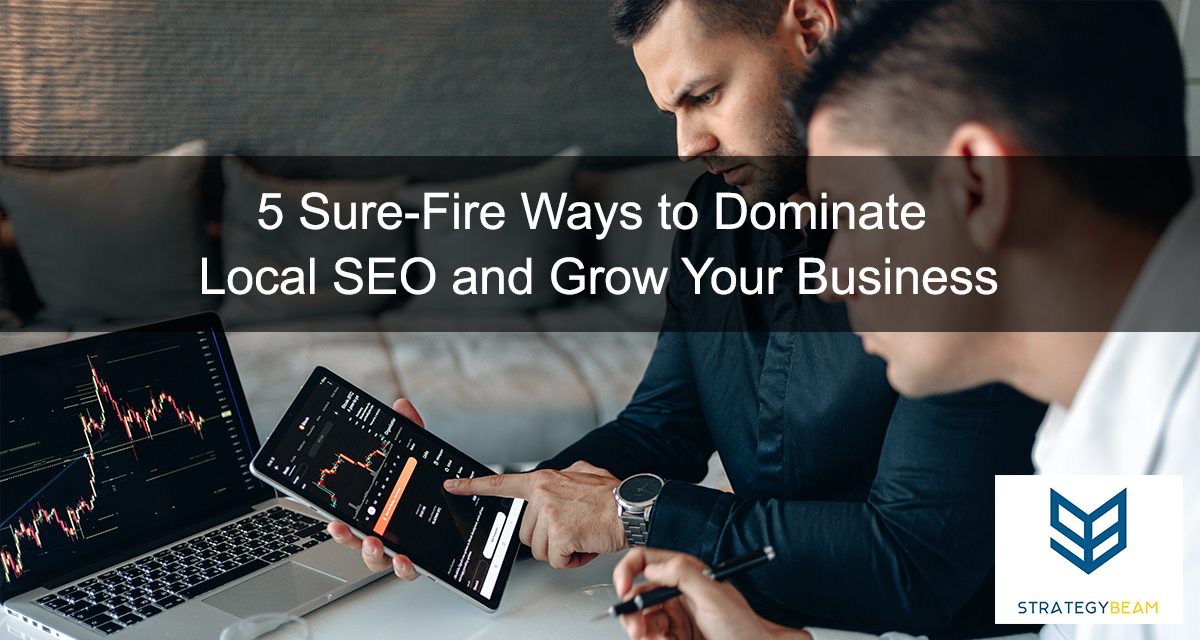 Grow Your Online Presence With The Right Local SEO Strategy
As a small business owner, you already know that you have too many things to think about throughout the day. However, one of the most important parts of any business is to reach potential customers to generate more leads and close more sales.
One of the best ways to grow your business is through digital marketing. As a small business that has limited time and resources, you should focus your attention on a solid local SEO strategy to ensure you reach your target audience. Instead of competing against national brands, you can dominate local search rankings to ensure you reach customers in your geographic area who use specific search terms.
Not only will this approach help you streamline your marketing strategy, but it will also help you reach local customers looking for your products or services at a lower cost point than other digital marketing strategies.
Let's take a look at how you can build a local SEO strategy to generate more leads and sales while saving your business lots of time and money in the process.
5 Great Local SEO Tips For Your Small Business
As we discussed above, one of the best ways to generate lots of leads and sales for any small business is to focus on local search results. Rather than trying to compete against competitors who have lots of resources, you can dominate your local market and appear at the top of Google search results by investing in optimizations that will help you rank higher in your local market.
Digital marketing and local SEO can be overwhelming to many small business owners, but here are 5 ways you can build a great local online presence today.
1.  Optimize Your Site For Mobile Searches
On average, 60% of all online searches are done on a mobile device. That number has the potential to rise dramatically when talking about local searches, so you need to ensure your website is optimized for mobile searches.
Local customers are likely to search in the spur of the moment when they need something, so you need to make sure your website is optimized for mobile devices, so you connect with potential customers as they visit your site.
Your customers are looking for your products and services, so you need to ensure every aspect of your site is optimized for a great user experience. Whether they are looking for a place to buy a new pair of shoes, lawn care services, or a nearby restaurant, you need to optimize your site based on your customers' needs.
It's essential that your website is easy to navigate on a mobile device so potential customers can quickly find what they are looking for. So when designing your website, be sure to keep your most important information front and center.
To drive more foot traffic and phone calls, ensure your website has your business name, address, and phone number (NAP) in prominent places throughout your site. This information helps Google and other search engines rank your business in search results, and placing this information throughout your site allows potential customers to contact you.
To ensure that your website is running for specific online searches, you must include local keywords. These keywords need to be intertwined into your URLs, title tags, headers, meta-descriptions, and image tags. You must prove to the search engines that you value the local customers.
To get even more power out of your site, you can embed a local map at the bottom of each page. This local SEO tip lets Google know where your business is located, and it can help searchers find your location quickly and easily.
2.  Take Advantage Of Your Social Media Account
You already use social media to connect with friends and family, but did you know that you can utilize these networks to improve your search engine optimization (SEO) efforts and boost your local rankings?
Social media networks like Facebook, Twitter, and Instagram are great places to connect with customers personally, share online reviews, and fuel your content marketing efforts by sharing blog posts. These activities can help you improve various ranking factors of your site and point costumes back to your business.
To fully leverage your social media accounts, you must have an active presence on social media. While this does involve posting daily, it more deeply involves posting meaningful and relevant content. Vary the content of your posts from sales within your business to events outside of your business.
For example, if you're having a sale, you should post about it. Similarly, if there's a local event in your area, you should also post about that. Doing this will bring customers to your page searching for those specific events since you are posting about content that matters to them, and this content will appear in search engine results pages (SERPs).
Lastly, when talking about social media, take advantage of free advertising. Ask customers to tag your business in their posts about your products. Partner with local models to promote your business to gain experience. Market in-store and online giveaways.
If you offer anything for free, people are going to notice. Have people repost your giveaways to draw attention to your page. Have an in-person (or Zoom) drawing to guide customers directly to you and your page.
3.  Prioritize Customer Reviews
How often do you check the online reviews of a product or business before even considering whether you want to involve yourself with it? If you're like most people, then reviews are your best friend because they provide vital information about the quality of a product or service before you make a purchase.
Reviews have been there to guide you away from buying that see-through dress or eating at that restaurant that has poor service. Reviews have also likely been there to help guide you in making a purchase.
As a business owner, it is important to ask your customers to leave you a review. Not only do customers use them for references about you and your products, but search engines use them to rank your popularity on Google Maps and other local search engines.
So whether it is a positive review that draws people in or a negative review that you need to address within your business, the more reviews about your business, the more popular you are.
Search engines will assume your popularity based on the number of reviews, which means with a high number of reviews, your business will be ranked higher in searches than those with little to no reviews.
4.  Create A Google Business Profile Page
Your Google Business Profile (GBP), formerly Google My Business, is a critical piece of your local SEO strategy. Not only does this business page appear in SERPs for local customers, but it also provides vital information to help potential customers visit your business or call you.
Have you ever driven past a Chinese restaurant and wondered why they didn't show up when you Googled Chinese restaurants in your area? Well, it's likely because that business owner skipped this step when preparing to advertise.
When creating your profile, you must fill out your information completely and correctly. For example, make sure that your NAP matches what is on your website, and make sure that both are changed when you move locations or get a new phone number. Also, make sure that your hours are accurate.
Update every aspect of your GBP business page to ensure your customers find you in local search results. This means keeping your photos up to date so that your customers know what they are getting themselves into with your business.
In addition to optimizing your GBP listing, you also need to build local citations on national directories like Yelp and build local directory listings in sources relevant to your local audience and your industry.
These directories and local listings will help Google and other search engines understand what your business is and help you rank higher in search results.
5.  Utilize Local Partnerships
Digital marketing is not just updating code on your site because if you want to reach a local customer base, you need to be where the searchers are. In this case, this means that you need to be active in your local community.
Get involved with local Meetups, apply with your local Chamber of Commerce, and network with local bloggers. These efforts will help boost your local SEO strategy because you will find more link-building opportunities, plus your interaction with other business owners will expose you to additional business connections.
You can also partner with local shops and restaurants to offer group promotions, discounts, and referrals. For example, if someone eats at the local burger shop, then they can shop at your store for 20% off. In addition, you can post links to each other's events and products on your websites and social media.
Dominate Localized Search Results and Improve Your SEO
Although building a successful local business can be challenging, it can also be rewarding to focus on digital marketing efforts that improve your ranking in local search results.
So don't let the overwhelming feeling take over; instead, take it one step at a time so that you can properly tackle the beast that is local SEO.