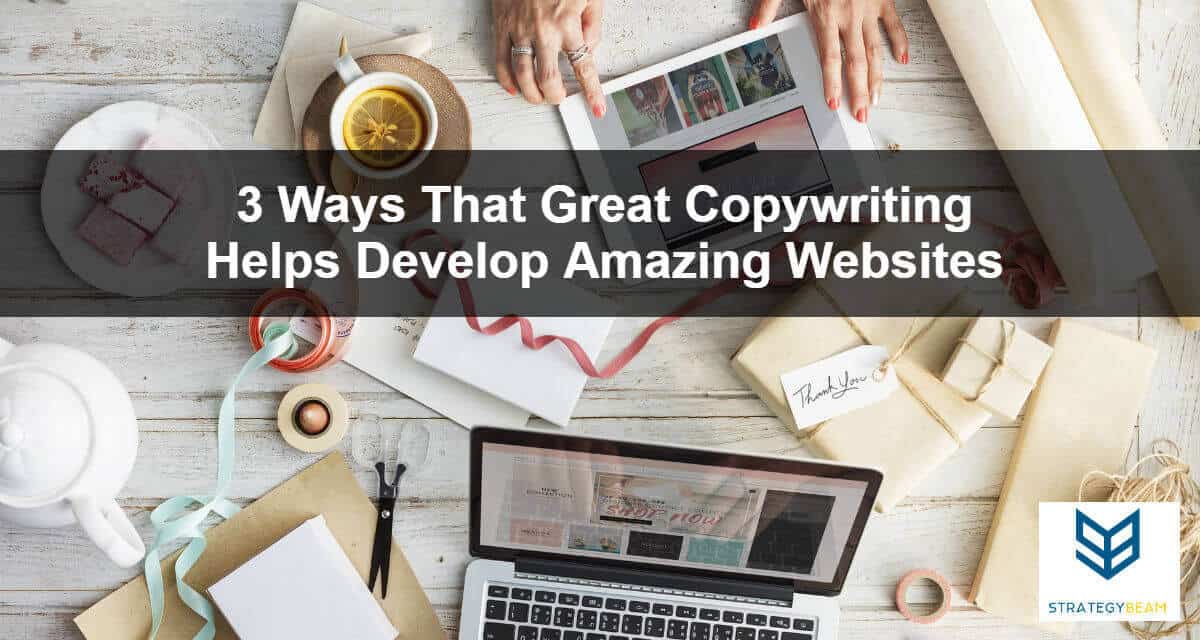 During my time as a Digital Media Strategy Consultant, I notice that many digital marketers and business owners focus most of their time, effort, and resources on the visual appeal of their website.
While having a great looking site can establish your brand, increase conversions with great copywriting, and help drive qualified traffic to your company, a great looking website is just not enough in today's competitive market.
No matter what you sell or the customers you are trying to reach, the world of Internet marketing has changed from focusing on the latest visual trends to delivering relevant content to your audience. This means that your business marketing needs to be based both on how your website looks and feels for your customers and optimize your online content to get found by search engines, and you can save time and resources by hiring a professional freelance copywriter to help your business reach your audience.
I know designers are going to focus on the statement that "visual design is not the most important piece of online marketing" and try to take it out of context.
But hear me out- design is essential to having a great website. However, copywriting is a vital part of website design and plays a massive role in influencing your visitors' opinion to buy from you.
How Does Copywriting Support Website Design?
Your customers are looking for solutions just like the products and services that your business provides. As your audience searches for ways to accomplish their goals, they are reading massive amounts of content.
Lots of content. Lots and lots of material.
In fact, it can be argued that today's consumer does more research than at any time in history. This is mainly due to the explosion of content available online, and this shift in how consumers find and consume content means that your business needs to publish great content that meets their needs.
Great copywriting can turn boring text into engaging and attention-grabbing power for your business to help you increase conversions and boost online sales. When coupled with high visual designs and streamlined User Experience, your website will be transformed into an unstoppable online sales machine.

Since your customers are looking for content, you need to ensure that your website content is optimized to be found by search engines and polished to meet the needs of your readers.
Here are a few ways that you can polish your website content to ensure that you are reaching your audience and driving qualified customers with great eCommerce copywriting strategies that can help you close more sales today!
1. Good Copy Engages Customers' Emotions
Successful website designers know how to use colors, shapes, and other design elements to tap into the emotional needs of their audience. Their use of colors is one way that companies can bond with their readers and make their online content more appealing during the User Experience.
Professional copywriters know how to use words and phrasing in the same way that designers use colors and images, all with the goal of making an emotional connection with their readers. An expert freelance copywriter will think about the needs of their customers throughout the entire Buyer Journey and find the most compelling questions or problems their readers have.
Once this information is found, professional copywriting services will work to develop compelling content to engage with their readers and craft specific solutions in a way that their readers can relate with. Using stories that connect with a reader, a website copywriter will align the goals of business with the needs of ideal customers.
Once proper research is done on the needs of an audience segment, copywriters and designers will work together to ensure the feel of the site meets the tone of the website content. Using this method your business can build fantastic content that resonates with your customers while also appealing with great visuals and website design.
2. Copywriting Can Boost Your Search Engine Rankings
An expert website designer will develop your site in a way to adhere to the technical SEO aspects of responsive design, and optimize your code to ensure that your site loads in a snap. These are fundamental aspects of professional SEO, but you also need to consider your website content if you want to rank well on search engines.
Google's entire business model is to offer relevant content based on the needs of their users. By providing the best answers to the needs of online searchers, Google increases the chances that individuals will return to their service and click on an ad (which is how Google makes money).
If you want your website to rank in search engines, then you need to offer relevant information about frequent questions/needs of your customers. If you produce valuable website content, you will be able to rank higher and drive more qualified leads to your website.
Even with the advancements in video and other interactive media, written website content is still the leading way that people search for information, and it is also the primary way that Google's algorithm assesses information on the Internet.
This means that you need to work with your website designer to produce a website that is optimized for technical SEO, but you will also need to ensure that your freelance copywriter knows how to position your site content to get found by search engines and convert customers once they reach your website.
3. Copywriting Creates Tone and Personality
The Internet is a crowded place, and if you want to stand out online, you will need an online marketing strategy that focuses on building your brand and positions your products and services as unique.
Website design is a crucial part of building this for your company, but you can't rely just on a great looking website to establish your brand. Professional copywriting has the highest potential to introduce your business to your customers, and with proper word choice and tone, you will be able to connect with your readers and build a brand.
If you want your business to achieve the most success, you will need a web designer who knows how to portray your brand through visuals and a professional copywriter who knows how to craft content to convey your tone and build a personality for your business.
Growing Your Business With Great Website Content
Connecting with your audience means you will need to do more than use great colors on your website. The only way to stand out against your competition is to focus your attention on the need of your customers. This means having an optimized website design that encourages your customers to continue through the sales process. You need a great looking website to establish your brand and improve usability, but you also need excellent website content to increase conversions and help your website get found online.
If you want to focus on growing your business and not on build great website copywriting for your website then get in contact with me. I am here to help your business grow with my professional freelance copywriting services.